COLAS
A world leader in the construction and maintenance of transport infrastructure.

Key figures:
Recruitment: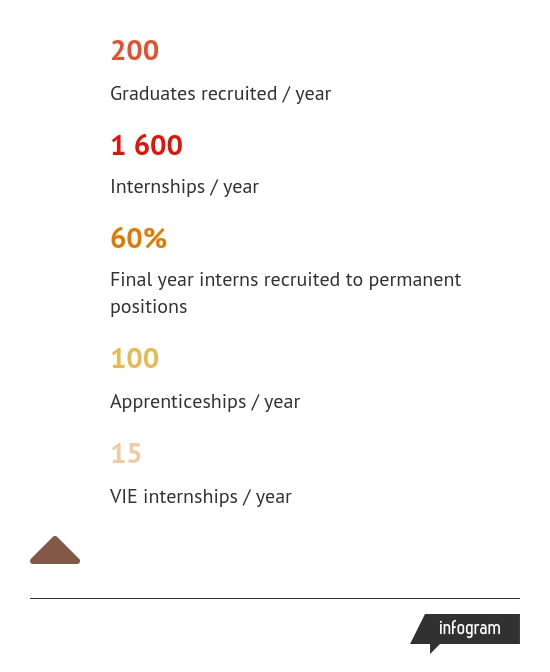 About Colas
The Colas group is present across all professions related to
road construction and maintenance
and all other forms of transport infrastructure (air, rail, maritime, river)
and urban development
, through two poles of activities:
roads, the group's core business
specialist activities (railways, watertightness, sales of refined products, road safety signs, pipelines).
Why the partnership with Centrale Nantes?
"Colas has regional headquarters in Nantes. This geographical proximity is one of the elements of the Group's working relationship with Centrale Nantes, allowing for better agility in the partnership.

In addition, several alumni work for Colas and confirm Centrale Nantes' status as "a quality school".
Our alumni at Colas:
Construction engineer, construction supervisors
Study Engineer
Operations Manager
Branch Manager
Regional director
President
Examples of internships undertaken by Centrale Nantes students at Colas:
Study of the behaviour of bituminous mixtures reinforced with glass fibre grid for the structural reinforcement of pavements
Assessment of the application of safety regulations for all agencies in the Brittany region
Testimonial:
Julian GRASSET

Second Year Internship
Assessment of the application of safety regulations for all agencies in the Brittany region
"The work environment for a intern is excellent, the atmosphere is good and I have always felt welcome in the various agencies and on the sites I visited.

I have a tutor with whom I review my progress and my impressions on a daily basis, to know if I'm going in the right direction. I can ask any questions I want, I never feel left to my own devices.

Another positive point: I enjoy a lot of autonomy in how I approach my task, I decide which tools to use, and my tutor validates. I learn things every day and I really feel that what I'm doing is useful. A lot of effort is required but it's worth it! "

Published on November 30, 2017
Updated on December 4, 2017