FAURECIA
Faurecia is a global leader in automative parts supply and the preferred partner of the world's largest car manufacturers.
Key figures: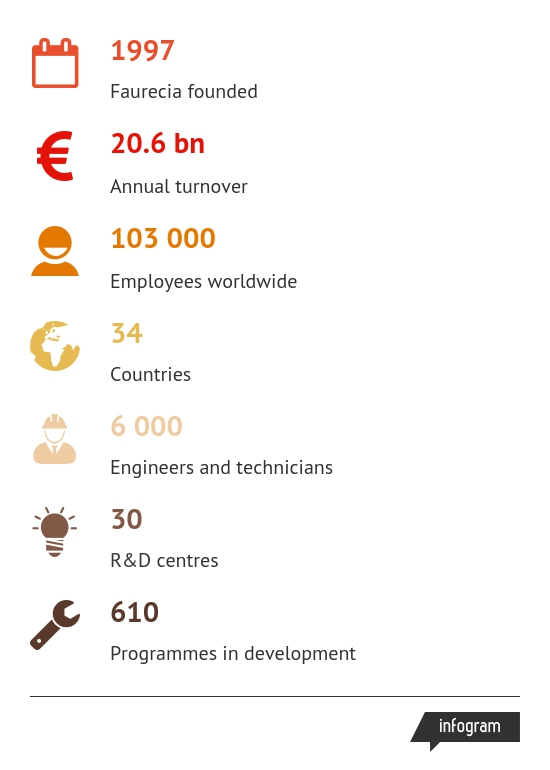 Recruitment: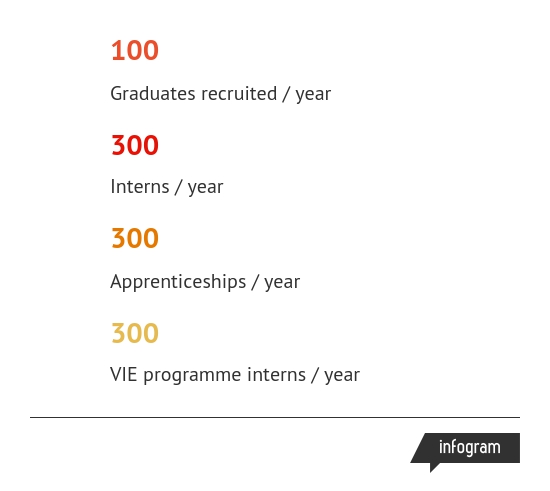 About Faurecia
A global leader in its three business areas:

Faurecia Seating

:

"Faurecia maintains a constant pace of innovation to provide automotive seating that is more efficient and inviting than ever: intelligent seat adjustment, customized comfort, new features...all without compromising on safety."

Interiors

: "From the instrument panel to the door panels and center console, Faurecia can customize nearly every surface that contributes to the visual ambiance of the vehicle interior."


Faurecia Clean Mobility

: "...Faurecia has contributed to the reduction of pollutant emissions by supplying carmakers with forward-looking solutions in emissions control as well as acoustic treatment, weight reduction and energy heat recovery."
Why the partnership with Centrale Nantes?
"Faurecia chose Centrale Nantes as a partner, as the school offers programmes on technologies linked to our activities and that lie at the heart of our expertise: industrial engineering, systems, materials, structures, dynamics of structures etc.

The goal is to increase our visibility among Centrale Nantes students, recent graduates and professors, in order to:


collaborate on teaching and research

develop research in partnership
We hope that the young graduates of Centrale Nantes will find challenges and opportunities at Faurecia
." -
Faurecia Group

SPECIALISATIONS LINKED TO FAURECIA'S BUSINESS AREAS:

Energy Production and Management
Propulsion and Transport
Embedded Control and Power Grids
Mechanical Engineering for Materials and Manufacturing Processes
Product Engineering
Robotics
Industrial Engineering
Computer Science
PROFESSIONAL OPTIONS LINKED TO FAURECIA'S BUSINESS AREAS:
Perception and Sound Design
Manager, Leader, Communicator
Business Finance
Research and Development
International Business Development
Examples of internships undertaken by Centrale Nantes students:
Operational internship
Development of a project management tool
Propulsion and energy
Design and mechatronics
Implementation and follow-up of an action plan for the optimization of transport
Monitor and manage product / process compliance: characterisation of the industrial development of new tools
Our alumni at Faurecia:
R&D Project Manager
Project Quality Engineer
Project Manager
Production Supervisor
Lean Manufacturing and Faurecia Excellence Manager
Project Development Manager
Development Engineer
Product Design Project Manager
Published on December 6, 2017
Updated on December 6, 2017