SAFRAN
Safran is an international high-technology group and tier-1 supplier of systems and equipment in the aerospace and defense markets.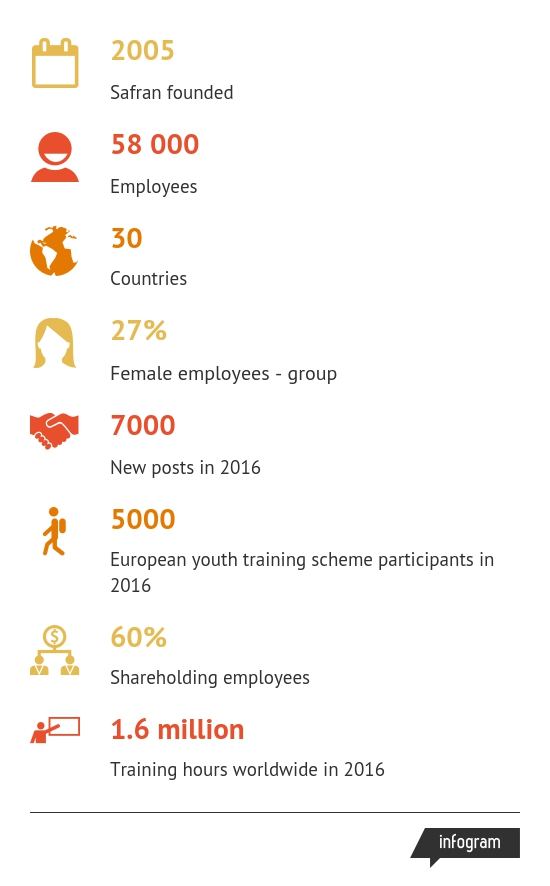 Safran is ranked in the Top 100 Global Innovators by Thomson Reuters.
Safran also ranks in the top 10 of the "Happy at work" ranking, (meilleures-entreprises.com), fourth amongst the favorite companies of young engineering graduates and features in the LinkedIn rankings of the most attractive companies in France.

About Safran
With operations on all continents, the Group employs more than 58,000 people with a turnover of €16.5 billion in 2017.

In February 2018, Safran took over Zodiac Aerospace, expanding its scope of activities in the field of aeronautical equipment and systems. Zodiac Aerospace employs approximately 32,500 people and achieved annual sales of €5.1 billion as of 31 August 2017.

Comprising numerous companies, the Safran group holds, alone or in partnership, world or European leading positions in its markets. To respond to market trends, the Group is committed to research and development programmes that accounted for €1.4 billion in 2017.

Safran is listed on Euronext Paris and is quoted on the CAC 40 and Euro Stoxx 50.

The diversity of Safran's products, activities and markets offers a wide range of business lines in the technical fields of R&D and production, as well as sales and support functions.

Safran offers you multiple opportunities to develop your professional experience across the board: from electrical engineering to fluid mechanics in R&D, from manufacturing to production logistics, from marketing to after-sales service and project and programme management.
Why the partnership with Centrale Nantes?
The Group seeks to attract the best graduates, especially from Centrale schools whose reputation for excellence is second to none. Centrale Nantes' multi-disciplinary engineering training meets Safran's recruitment needs, mainly for R&D and production roles. It is based on a very good technical grounding and offers multidisciplinary skills. - SAFRAN
SPECIALISATIONS LINKED TO SAFRAN'S BUSINESS AREAS:

Aeronautics
Embedded Control and Power Grids
Mechanical Engineering for Materials and Manufacturing Processes
Product Engineering
Robotics
Mathematics and Applications
Computer Science

PROFESSIONAL OPTIONS LINKED TO SAFRAN'S BUSINESS AREAS:

Manager, Leader, Communicator
Entrepreneurship
Business Finance
Research and Development
International Business Development
Examples of internships undertaken by Centrale Nantes students:
Advanced modelling of staple fiber composite materials
Maintenance data and engine operations analyst
Application of an incremental model to model crack propagation
Uncertainty quantification of Pégase
Our alumni at Safran:
Dynamic engine engineer
Mechanical and thermomechanical calculation engineer
Product manager
Maintenance data and engine operations analyst
Published on December 7, 2017
Updated on April 5, 2019
Want to ask about career opportunities at Safran?
Our e-ambassadors answer your questions on our
platform
Go for it and be one of the 2 000 new staff to join us in France in 2018