SNCF
SNCF is one of the world's leading groups for the mobility of people, freight transport and logistics.
Key figures: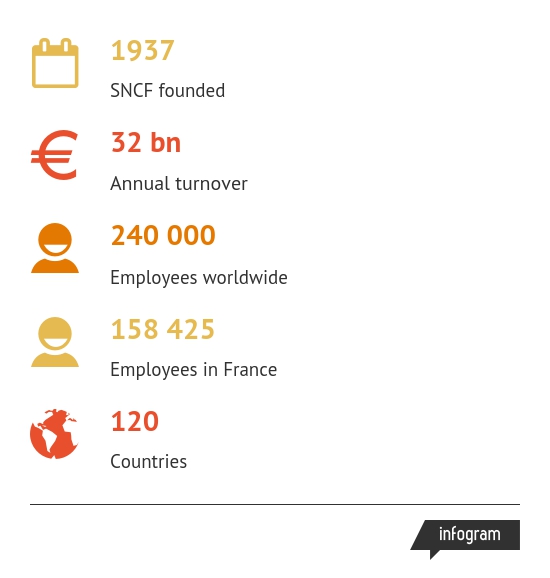 Recruitment:
(in France for 2016)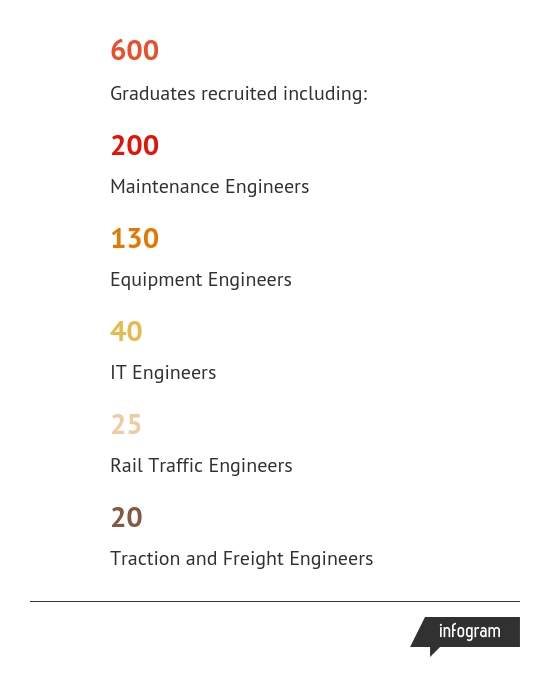 About SNCF
As a public railway group, SNCF is expanding the range of transport services in order to
offer a better quality of service to its customers
, travelers, shippers or AOTs (transport organisation authorities).
The group has three divisions:
SNCF:

determines overall group strategy

SNCF Réseau:

(network): manages, operates and develops the French rail network

SNCF Mobilités:

(mobility): transports passengers and freight
Why a partnership with Centrale Nantes?
"We attach great value to the close and special relationship maintained between SNCF and Centrale Nantes.

Our partnership, signed in 2010, is logical and natural because we share
strong and common values

with Centrale Nantes: innovation, technical skill, a taste for challenge, the human at the heart of a project etc.

This partnership offer students the opportunity to see behind the scenes in our company - our projects, our goals and the daily life of our teams - through institutional presentations, visits to industrial sites, or testimonials from alumni."
-
SNCF
SPECIALISATIONS LINKED TO SNCF BUSINESS AREAS:
Civil Engineering

Engineering Science for Housing and Urban Environment


Energy Production and Management

Propulsion and Transport

Embedded Control and Power Grids



Mechanical Engineering for Materials and Manufacturing Processes
Product Engineering
Robotics
Industrial Engineering

Computer Science
Modelling and Simulation in Mechanics

PROFESSIONAL OPTIONS LINKED TO SNCF BUSINESS AREAS:
Manager, leader, Communicator
Sustainable Cities
Business Finance
International Business Development
Examples of internships undertaken by Centrale Nantes students:
Manual internship in an industrial environment on coupling parts
Study on the improvement and management of local train regularity in the Pays de la Loire region
Lean management
Estimation of uncertainties in measuring and modelling the dynamic behaviour of vehicles
IT development of a tool for optimizing the placement of trains in stations
Our alumni at SNCF:
Director, SNCF Executive Recruitment Agency
Assistant Methods Manager, SNCF Technicentre
Student Testimonial:
Lucie CAMUS
- 23 years old
Centrale Nantes Alumni
Methods Manager and Project Manager, SNCF Technicentre, Noisy-le-Sec
What does your job involve day-to-day?

I am based at the Noisy-le-Sec Technicentre in Seine-Saint-Denis. It is a huge garage where trains are housed for maintenance operations. I have a dual role - local project manager for Osmose, our computer-aided Maintenance Management Software and Assistant Methods Manager. I train and help to train maintenance workers to use this software.

Why did you choose to join SNCF?

During my final year internship, I discovered a universe with strong safety challenges and management challenges to meet. SNCF also offers significant internal mobility. I will spend at least two years in this position, then I can evolve towards other careers, including in one of our subsidiaries abroad.

What facets do you particularly like in your job?

Without hesitation, training and supporting agents. Supporting production is exciting.



Published on December 8, 2017
Updated on April 5, 2019