SOPRA STERIA
Sopra Steria, a European leader in digital transformation
Key figures: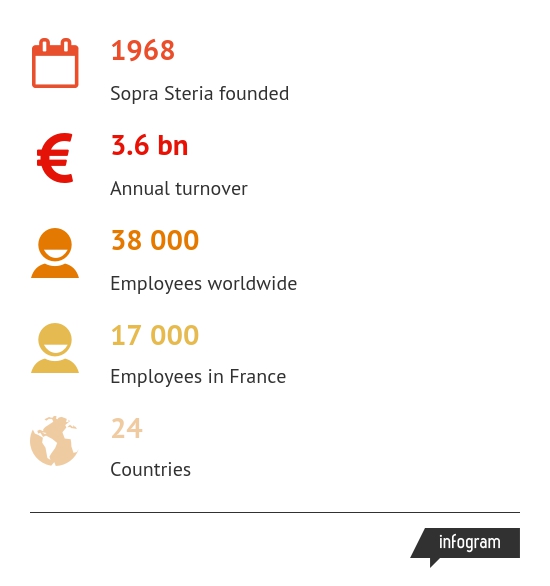 Recruitment: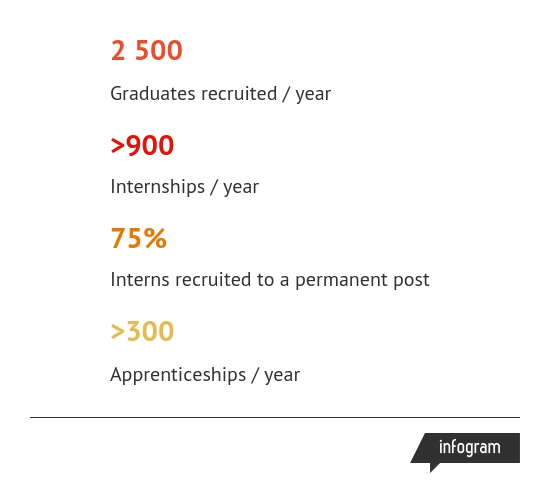 About Sopra Steria
Sopra Steria, a European leader in
digital transformation
, provides one of the most comprehensive portfolios of end-to-end service offerings on the market: consulting, systems integration, software development, infrastructure management and business process services.
Combining high quality and performance services, added value and innovation, Sopra Steria enables its clients to make the best use of digital technology.
The group, which is expanding rapidly, will welcome 2,500 new recruits in 2016 to take part in its major projects across all business areas.
Key Projects:
Airbus Group

: Manager of numerous bundles in France, Germany, United Kingdom and Spain for Airbus Group

La Banque postale

: Rationalizing and modernizing the Information System through an industrial partnership with Sopra Banking Software

EDF

: Participate in the creation and construction of the new Information System of the Trade branch

French Ministry of Defence

: Programme SIA (Système d'Information des Armées) - Design and build of the architecture and integration of the French army's Information System

SNCF

: Redesign of the entire train timetable production system
Why the partnership with Centrale Nantes?
Sopra Steria wishes to strengthen its links with Centrale Nantes in terms of job offers, internships, apprenticeships and student projects.

The actions planned are intended to raise Centrale Nantes' student awareness of the business world in general and of Sopra Steria in particular.
SPECIALISATIONS LINKED TO SOPRA STERIA'S BUSINESS AREAS:

Management of Digital Business and Information Technology
Mathematics and Applications
Virtual Reality
Computer Science
PROFESSIONAL OPTIONS LINKED TO SOPRA STERIA'S BUSINESS AREAS:
Manager, Leader, Communicator


Entrepreneurship

Research and Development

Sustainable Cities

Examples of internships undertaken by Centrale Nantes students:
Design, implementation and integration of GIS
Java / J2EE design and development in a service-oriented and Big Data Information System
Development and integration of the functional and technical evolutions of one of Europe's largest Business Intelligence Information Systems
Maintenance and development of the largest European logistics information system in the Defense field
Innovation and open source solutions for local and regional authorities
SAP Business Warehouse decision-making for a major player in the aerospace industry
Participation in the urbanization of an Information System
Design, implementation and integration of GIS and/or mobile application and/or virtual reality applications
Our alumni at Sopra Steria:
Cybersecurity Engineer
Design Mobility Development Engineer
Security and Risk Analysis Engineer
Engineering Scientist
Key Account Sales Engineer
Java Mobile Engineer and Java J2EE for a banking software package publisher
Customer Support Engineer
Continuous Integration Software Engineer
Validation Engineer
Decision Consultant
Pre-Sales Security Consultant
Published on December 11, 2017
Updated on December 11, 2017