VINCI CONSTRUCTION FRANCE
VINCI Construction France is a leading player in construction.
Key figures: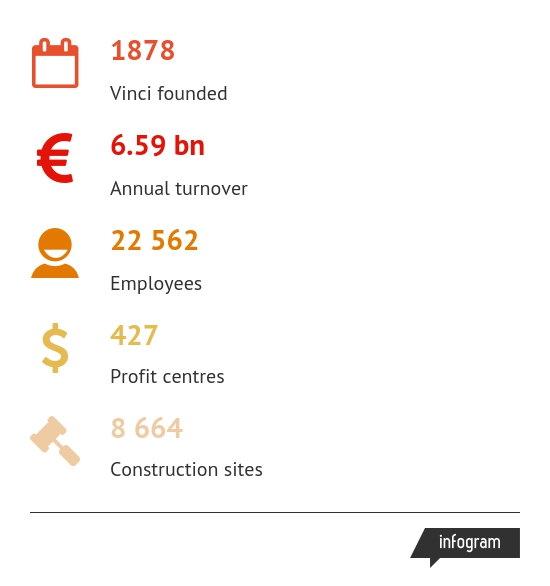 Recruitment: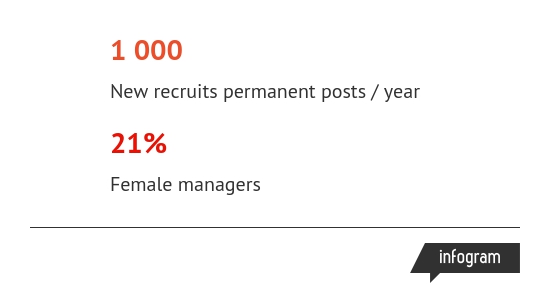 About VINCI Construction
VINCI Group
- global player in concessions and construction - designs, finances, builds and operates infrastructure and facilities that help improve daily life and mobility for all.
VINCI Construction
is a global operator and active in eight sectors: buildings, facilities, transport infrastructure, hydraulic infrastructure, renewable and nuclear energy, environmental engineering, oil and gas, and mining. Its organisation is geared to providing long-term support for customers on projects spanning a wide spectrum of technical features, scales and geographies.
VINCI Construction France
, number 1 in the French construction industry, provides its customers with all of its know-how and the expertise of its employees to design, finance, build and operate any construction project.
Four business areas:
Building (70.2% of turnover)
Civil engineering (17.7% of turnover)
Hydraulic infrastructure (7.1% of turnover)
Specialist area (5% of turnover)
Why the partnership with Centrale Nantes?
VINCI Construction France is committed to
recruiting the most talented candidates with diverse backgrounds
so that it can assert its expertise as a contractor in increasingly complex markets.
Thus, the choice of partnership with Centrale Nantes ensures:
support for young dynamic people and thus training of tomorrow's employees
greater proximity and links with local schools.
benefit from the academic excellence offered by the school in line with our business and our approach to operational excellence. " - VINCI Construction France
SPECIALISATIONS LINKED TO VINCI CONSTRUCTION'S BUSINESS AREAS:
Civil Engineering
Engineering Sciences for Housing and Urban Environment
Digital City
Mathematics and applications
Virtual Reality
Modelling and Simulation in Mechanics
Computer Science
PROFESSIONAL OPTIONS LINKED TO VINCI CONSTRUCTION'S BUSINESS AREAS:


Perception and Sound Design
Manager, Leader, Communicator
Entrepreneurship
Business Finance
Research and Development
International Business Development
Sustainable City
Personal Project
Examples of internships undertaken by Centrale Nantes students:
BIM development
Site supervision
Assistant structural engineer
Our alumni at VINCI Construction:
Works engineer
Works branch director
Design / digital design engineer
Methods engineer
Structural engineer
Other subsidiaires of the VINCI group:
VINCI Energies

Eurovia

VINCI Autoroutes

VINCI Airports

VINCI Highways

VINCI Railways

VINCI Stadium
Group values:
Diversity in all its forms
Employee motivation, loyalty and development support
Transmission of knowledge
Develop safety culture
Eco-design
Published on December 11, 2017
Updated on December 11, 2017