ORANGE
Orange is one of the world leaders in telecommunication services for multinational companies and one of Europe's leading telecommunications operators.
Key figures: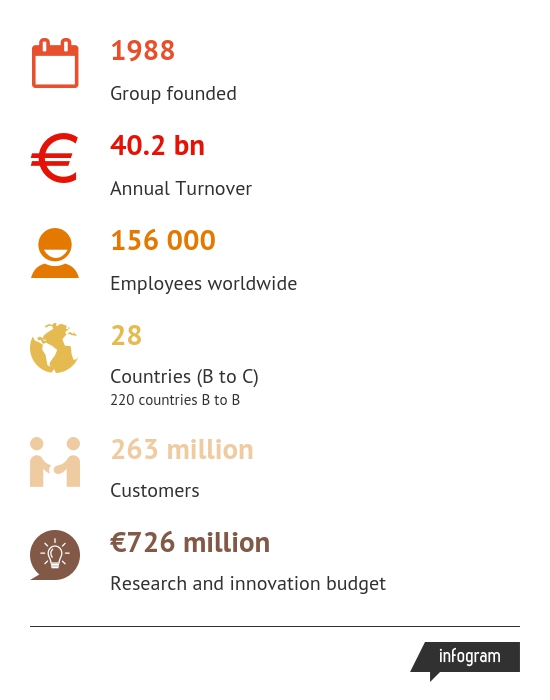 Recruitment:
About Orange
Orange's business activites:
Build broadband landline and mobile networks that transform our customer experience,
Support the digital transformation of companies,
Design the best product and service offering,
Innovate with connected objects, big data or mobile banking,
...a multitude of fields with exciting digital career prospects.
Why the partnership with Centrale Nantes?

"Orange has a special relationship with Centrale Nantes.

The training develops key skills for the group's future and helps the group meet the strategic challenges set out in the framework of its 'Essentials 2020' plan". - Orange
SPECIALISATIONS LINKED TO ORANGE'S BUSINESS AREAS:
Computer Science

Virtual Reality

Embedded Systems and Power Grids

Product Engineering

Robotics

Management of Digital Business and Information Technology
Examples of internships undertaken by Centrale Nantes students:
Development of a platform for modelling and data analysis
Assistant digital project manager
Android development
Design of a device & mobile application
Data design engineer
Java development engineer
Bayesian inference critical service data quality simulator design
Quality engineer
Security engineer
Corporate Social Responsibility project
Our alumni at Orange:
Head of Energy and Environment, Africa, Middle East, Asia
R&D engineer
Design engineer
IT project manager
Project director
Student testimonial:
Antoine DEBRY
3rd year apprenticeship
Radio
Engineer

Apprentice - Radio and Quality
Expertise Team
"An apprenticeship at Orange was an opportunity that I seized without hesitation! Orange is a major player in the digital world, with a global presence and offering countless development opportunities. The future looks bright for apprentices at Orange!

Moreover, the significant periods of time spent in the company means that it is possible to carry out a project from start to finish: initiation, development, presentation to the teams, reporting etc. Projects are varied: from telecoms to computer science, but also with strong human interaction.

My supervisors - tutor, managers, etc. - trust me. I can work independently on my tasks, with support and guidance provided. The only drawback is the small scope of some of my tasks. Although, these projects often constitute a transition between two larger projects.

Working in the field of radio expertise means that I am at the cutting edge of Orange technologies - 4G +, VoLTE, etc - and in touch with several different business areas.

Today, I'm coming to the end of my apprenticeship and I hope to have the opportunity to continue this adventure at Orange!"
Orange graduate programme:
The "Orange graduate programme" is an attractive recruitment programme designed for high-potential young engineering and/or management graduates from the best international courses.

Each year, Orange recruits 20 to 40 young graduates, who quickly develop their potential thanks to the three-year individual support program.
Published on December 7, 2017
Updated on July 9, 2020