CENTRALE NANTES
Arnaud POITOU, Director of Centrale Nantes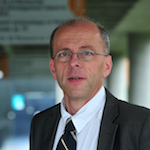 In keeping with the traditions of French Engineering schools (
grandes écoles d'ingénieurs
), Ecole Centrale Nantes trains versatile engineers to a very high scientific and technical level. Equipped with a strong managerial culture, they are capable of placing scientific subjects into a global context incorporating environmental and societal issues.
A member of the Ecoles Centrales Group (Lille, Lyon, Marseille, Nantes and Paris), Centrale Nantes delivers a teaching programme of the highest quality to rigorously selected students.
Our extensive links with the world's top universities opens up international study opportunities. The school belongs to one of the most exclusive networks, which is ever expanding, particularly towards India, Japan, Brazil and Russia.
With the support of numerous strong institutional and industrial partnerships Centrale Nantes produces world-class academic and applied research. At Centrale Nantes you will be in tune with the economic world, at the very heart of innovation. Since an engineer develops products for society, you will learn how companies work and develop your ability to create, develop and manage them.
What matters most to us, beyond imparting knowledge, is to support you in your personal and career development plans, whether they be already well-defined or yet to be broached. For this reason each training programme is different, and the coaching that you will benefit from here will enhance your personal growth and career development.
Key figures
1 550 engineering students
350 Master's students
240 PhD students

13,000 alumni
250 teaching and research staff
250 external lecturers
150 administrative and technical staff

6 laboratories

equipped with extensive scientific and technological facilities
Blending Education, Research and Industrial Study
Centrale Nantes was one of the very first schools to combine three activities within its structure: Education, Research and Industrial Studies. The positions currently held by our alumni and the recognition of its educational standards by the corporate world are ample proof of the school's success.

RANKING:
According to L'Express and L'Etudiant Magazines, Ecole Centrale de Nantes appears in the TOP 11 of 200 French Engineering Schools.
Download the English Brochure
Published on June 19, 2009
Updated on November 14, 2016