Centrale Nantes & Nantes: spend an evening at the 18th century theatre thanks to virtual reality.
On Wednesday 20th June, the VESPACE project took a major step forward with its first work session using Virtual Reality. Centrale Nantes is a partner in the VESPACE project, an international and interdisciplinary project, which aims to produce an immersive multi-sensory experience in the theatres of the Saint-Germain Fair of 18th century Paris. PhD student Paul François explains below.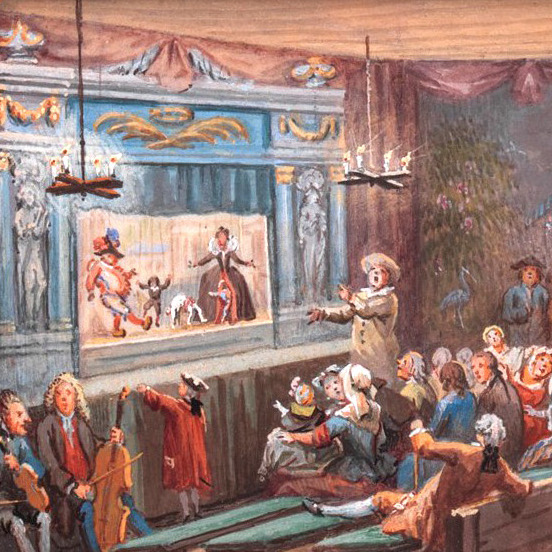 The VESPACE project - Virtual Early-modern Spectacles and Publics, Active and Collaborative Environment - partly funded by Centrale Nantes and Ouest Industries Créatives, aims to revive the atmosphere and customs of an evening at the theatre at the Saint-Germain Fair in 18th century Paris.
The objective of the event on 20 June was to make progress on constructing the avatars that will populate the project's virtual space, and in particular their costumes. The project team, composed of Françoise Rubellin (university professor), Paul François (LS2N PhD student supervised by Françoise Rubellin and Florent Laroche), Killian Poinsot and Charlotte Dubosc (both interns at LS2N) thus visited Nantes Opéra to meet the team of costume designers.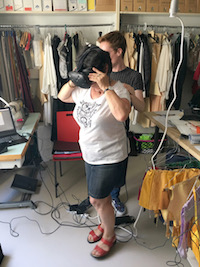 Thanks to the laboratory's Virtual Reality platform, we were able to place each designer and seamstress as close as possible to the 3D avatar models so that they could bring their expertise and comment on the work already done. With their undeniable know-how, they quickly pointed out the inconsistencies in our models, which allowed for a pooling of knowledge around digital models via immersion in virtual reality. The length and shape of our avatar's costume was thus quickly reviewed and the team directed us to new sources to diversify our references.
The model's hairstyle, the result of intensive work to reconcile historical accuracy and real-time visualization capabilities, was also reviewed by the Opera's make-up team.
This interdisciplinary work ultimately produces a more realistic reproduction while staying close to this workshop's natural working methods. This experiment is an opportunity to highlight the value of digital equipment, which allows for effective interdisciplinary work through a common visual language: the three-dimensional object.
Paul François, LS2N PhD student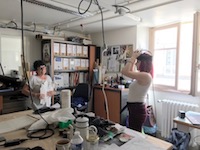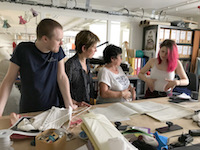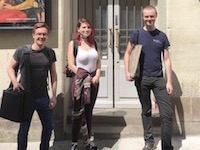 Learn more:Contacts:
Photos: Paul François, VESPACE

Published on June 26, 2018
Updated on June 26, 2018