Come aboard with Centrale Nantes for 10 days at the MER XXL Exhibition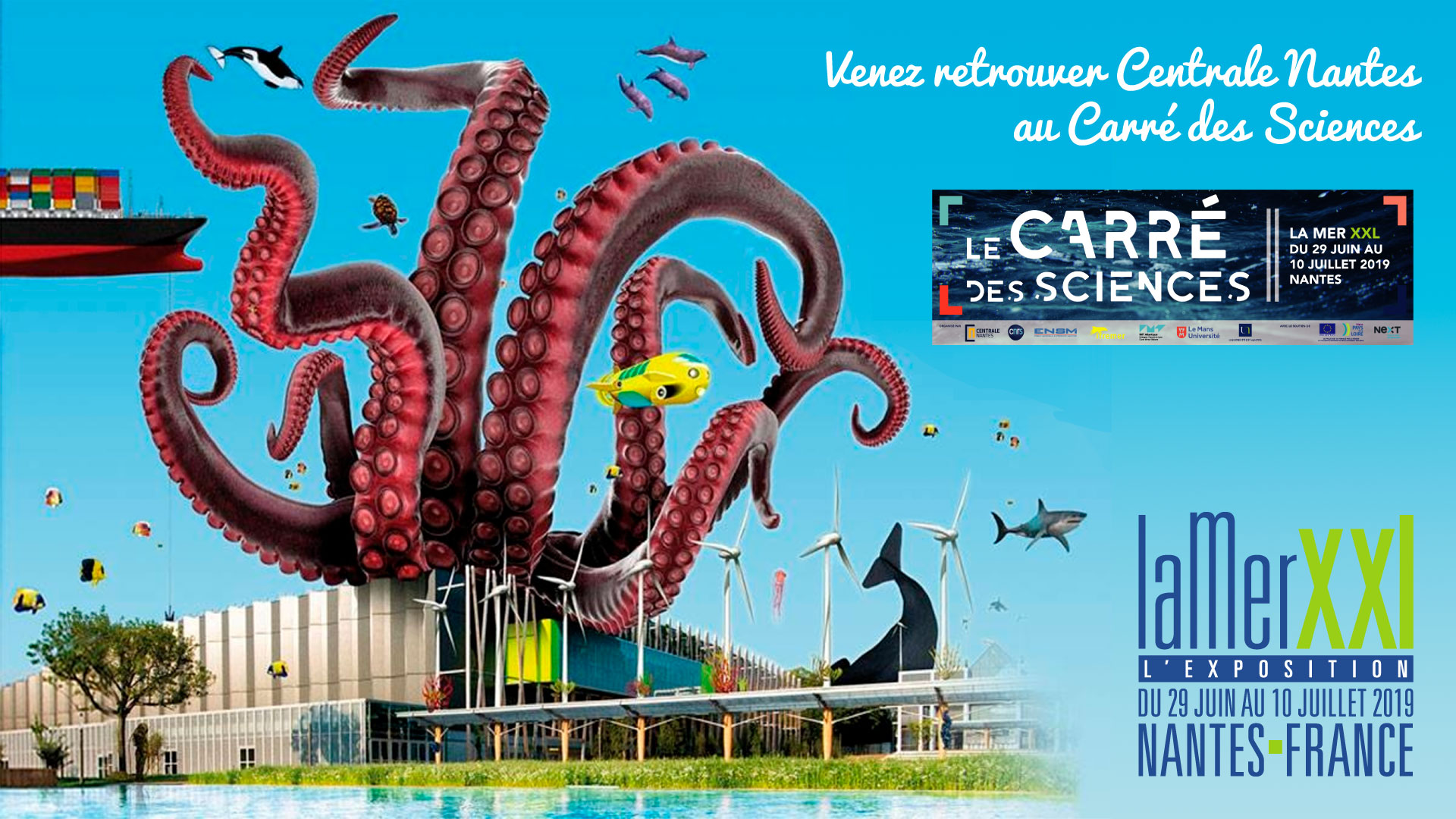 LE CARRÉ DES SCIENCES (HALL XXL)
Navigate and explore, operate sustainably, understand and study, and monitor to preserve at the Carré des Sciences !
Discover today's and tomorrow's research through exhibitions, games, videos, research experiments and objects in the CARRÉ DES SCIENCES exhibition area from 29 June to 10 July at the Nantes Exhibition Centre!
The CARRÉ DES SCIENCES presents the ocean research work of six higher education establishments: Centrale Nantes, CNRS, ENSM, Ifremer, IMT Atlantique, and the Universities of Nantes and Le Mans.
The exhibition has four main themes: Navigate and Explore, Operate Sustainably, Understand and Study, Monitor to Preserve. Centrale Nantes will be exhibiting within two of the themes:
Navigate and Explore, Operate Sustainably.

CONFERENCES
Centrale Nantes is organising three conferences during the 12-day exhibition. Feel free to come and enjoy the exhibition on a day when you can also hear our researchers speak!
ROUND TABLE ON FLOATING OFFSHORE WIND - Floating wind turbines: a strategic sector for France - SATURDAY 29 JUNE
CONFERENCE ON "THE POTENTIAL OF MARINE RENEWABLE ENERGY FOR ENERGY TRANSITION", by Aurélien BABARIT - SUNDAY 30 JUNE
CONFERENCE ON "Offshore innovation means physical modelling in laboratories: what experiments are undertaken, and with what means?", by Jean-Marc Rousset - THURSDAY 4 JULY
VISIT THE FIRST FLOATING WIND TURBINE
Centrale Nantes and the Pays de la Loire Region invite you onboard to visit Floatgen - the first offshore wind turbine in France - on the SEM-REV site off the coast from Le Croisic on Saturday 6th July.
Free of charge
.
Register to take part.


Learn more and register online
Published on June 27, 2019
Updated on June 28, 2019
Come aboard with Centrale Nantes for the MER XXL
Mer XXL at a glance
12 days of exhibition, and three evenings
120 000 visitors expected
66 000m² exhibition area,
150 exhibitors
See the Mer XXL website