Research facilities

Centrale Nantes is committed to ensuring that industry benefits directly or indirectly from our research through technology transfer. This transfer can take the form of patents and licences, research partnerships, bilateral collaboration, and joint teams and facilities.

Our research facilities allow us to forge strong links with industry through the shared use of very large scale equipment. Researchers from the national and European academic community can benefit from those facilities as well as industry players in order to conduct experiments on prototypes of relevant size.
THeoREM - unparalleled research infrastructure in Europe
Ifremer and Centrale Nantes have combined their test resources to create the THeoREM Research Infrastructure and provide France with unparalleled marine engineering resources in Europe.

Our exceptional research facilities include 13 platforms: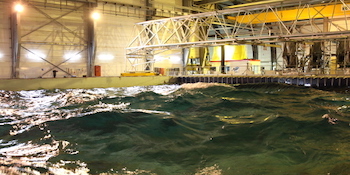 Ocean test facilities
Amongst the largest in Europe, Centrale Nantes' ocean test facilities include a towing tank, a hydrodynamic and ocean engineering tank, a shallow water tank and a recirculating canal. Experiments carried out in the ocean tanks allow different structures, such as ships or wind turbines to be tested in their environment of use - river or sea.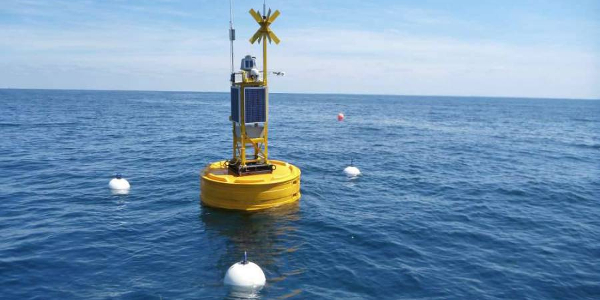 SEM-REV Offshore test site
The first European site for multi-technology offshore testing that is connected to the grid. It will play a decisive role in meeting the challenge of Marine Renewable Energy development in France.

Dynamic and Static Test Centre (CRED)
Through this facility, our industrial partners can benefit from the tools and skills of our researchers in terms of thermomechanical behavior of materials applied to real situations.
Whether for academic or industrial research, CRED provides valuable input into optimal product design.
Engine test benches
These test facilities allow experimental characterization and numerical modeling of complex energy systems. This research is accompanied by a societal challenge:
reducing the consumption of fossil fuels and polluting emissions.
Electric vehicle test benches
coming soon
Supercomputer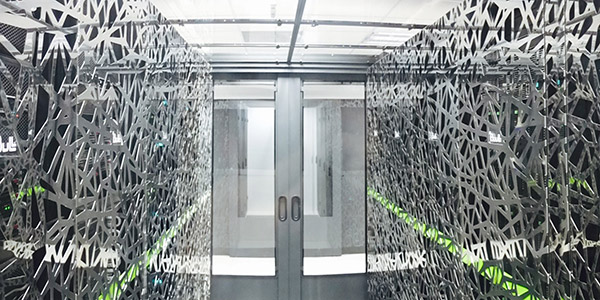 The supercomputer is one of the most powerful in its category in France (Tier-2).
Intensive numerical calculation is an indispensable tool for both research and industry: it reduces the cost of testing, facilitates optimization and promotes creativity and the search for new solutions.
Composites Platform
This experimental equipment makes it possible to produce organic composites and to characterize materials in physical terms. The platform provides the
right conditions for the world-class research activity conducted in the field of mechanics of materials and processes.
Rapid Manufacturing Platform
The platform brings together several manufacturing processes: additive manufacturing, machining, forming, welding, bioprinting. It is currently used, for example, in an ongoing
H2020 project in partnership with Naval Group
whereby metal additive manufacturing is helping to reduce the environmental footprint of ships.
Robotics Platform
Three fields of robotics are explored via the platform:
production, land and air mobile robotics, and humanoid robotics and natural interactions
. State-of-the-art equipment was acquired to power the platform as part of the Robotex FEDER collaborative project.
Structural Testing Floor
The structural testing floor provides researchers and companies with
exceptional experimental and digital resources.
In order to meet the challenges of environmental civil engineering, the platform brings together
simulation tools adapted for design and management of the lifecycle of structures.
Smart Factory Platform
This smart platform offers everything that we could expect from a production system: it is modular, reconfigurable, agile and flexible. It demonstrates the modern concepts of the industry of the future, integrating diversity management, total production traceability and detailed quality monitoring.
- Professor Alain Bernard
Virtual Reality
Designed for teaching as well as research, this immersive room is equipped with a passive 3D projection system for real-time complex model simulation.
The physical configuration of the room is
modelled on the industrial world of tomorrow
:
from creation of the business concept to virtual design to visualization / simulation
in the immersive room.
Wind Tunnels
Atmospheric wind tunnel - the results obtained from experiments relating to quality of life issues, (comfort, air quality and climatology or local meteorology) contribute to the decisions that are being made for sustainable urban development in the context of both climate change and the development of coastal and continental cities.
The aerodynamic wind tunnel is dedicated to the development of "intelligent" wind turbine blades.
Published on March 9, 2017
Updated on February 8, 2021