Scientific Challenge 2024


High fidelity modelling of the complete boat-oar-rower system
Head: Alban Leroyer
Sports Research Contact: Sophie Barré (CREPS, Pays de la Loire)
Sports Partner:
Fédération Française d'Aviron
(French Rowing Federation)
Context
With the upcoming 2024 Olympic and Paralympic Games in Paris and the relationship forged between Centrale Nantes, CREPS des Pays de la Loire and the French Rowing Federation through various research projects linked to performance support over the past twenty years, there is a willingness to expand the links between scientific research and the sports community.

The opportunity is therefore offered to students to take part in these scientific challenges in order to develop tools capable of providing concrete answers in the field, and to acquire scientific skills and knowledge through an ambitious engineering and research project.
Objectives
The objective is to train engineers capable of undertaking large-scale projects, providing relevant solutions to issues in the field, within efficiently organized project teams.

Subject
In the first year of the project, a prototype simulator of the boat-oar-rower(s) system was finalized. The challenge now lies in the industrialization phase, so that the simulator is operational from the start of the 2020-2024 Olympiad, specifically:
Make digital simulation an operational tool for rowing for the 2024 Olympic Games
Improve reliability and facilitate simulator implementation to ensure professional quality
Undertake the essential validation phase using existing field measurements, but also by developing measurement methods
for missing data
Conduct parametric studies of the determinants of sports performance in rowing from simulations
Make the research results accessible for sports experts
Use the simulation results to propose training tools for coaches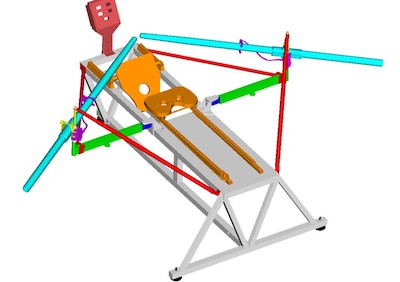 A customized training programme
This innovative project-based teaching method will allow students to acquire competences in a different way thanks to:
A customised training programme
Agile and autonomous organisation
Tailored support
Scientific challenges linked to industrial issues (naval hydrodynamics, MRE, simulations, etc.)
A database of experimental measures carried out within the French teams
An opportunity to take concrete action on an ambitious performance support project in preparation for the 2024 Paris Olympics
PROJECT DELIVERABLES
A programme to process field measurements performed by the French team, which will also serve to train the whole team on the key project tools
A module to generate all the data input (biometric measurements of rowers, body movements, equipment parameters, etc), with a measurement protocol (scan, dedicated bench, etc.) for each part
A realistic display model as a vehicle for communication to enhance performance and discussion with the sports community
An experimental validation database
Analysis and optimization of the SPRing simulator's performance
Regular project monitoring deliverables (minutes, reports and progress indicators, planning, set up of a bug/improvement tracking tool)
A schedule will be associated with these deliverables.
A project-based specialisation
Thoughout the project students will be involved in the following:
Research and development
Instrumentation
Modelling
Scientific computing
Sports performance analysis
Company organisation
Communication
Project-based learning is another way to acquire engineering skills:
Project engineering
Numerical simulation
Software development
Experimental methods
Managing complexity
Teamwork
Knowledge transfer
Published on February 1, 2018
Updated on January 24, 2020