Gap year
Gap year: a personal choice
The gap year gives students the opportunity to undertake a personal project and to live an original experience, which is not accessible to him/her within the classic training framework (including international mobility).
The gap year constitutes a pause in the studies, between two semesters (after semester 7 or 8, where semester 8 comprises the second year internship).
The gap year:
does not contribute towards the award of the degree at Centrale Nantes
is based on the development of a personal project with full awareness of the consequences (autonomy, degree obtained one year later etc.)
The student must put together a project that will allow him/her to fully exploit this year and which must include have several components. Second year students who are interested in a gap year are invited to prepare their application (motivation, project outline).
The application is the starting point for a gap year, it is not necessary, at this stage of the project, to have a firm answer from the establishment that will be able to accommodate the student.
This definitive answer will be required from the student at the year-end examinations board at the end of May.
Centrale Digital Lab, the new gap year programme run by the Ecoles Centrale Group: A full-year immersion in digital technology
If you're passionate about digital technology, you want to be trained by professionals or get involved in the French Tech environment, then this gap year programme is for you!
Find out more: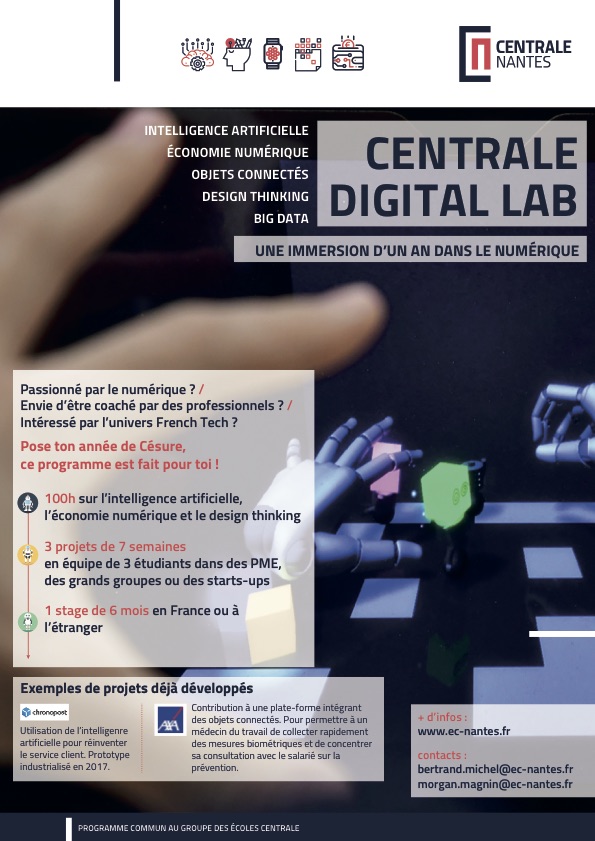 Published on April 11, 2018
Updated on March 11, 2019