Enrolment - First year engineering programme
ENROLMENT PROCEDURE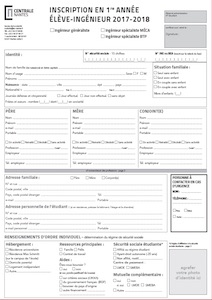 Qualified applicants (
admissibles
) will receive an enrolment form and information pack in June.
oui définitif
) are required to return their enrolment form to the Student Affairs Office.
Please fill out the form legibly and enclose the required supporting documents in the envelope provided.
Your name and specific admission route (
concours
) must be recorded on the envelope.
LIST OF SUPPORTING DOCUMENTS
ID: photocopy of passport, ID card or driving licence
Photocopy of valid visa or residence permit - for international students outside the EEA
Photocopy of educational qualifications (high school diploma etc...)
Photocopy of grades awarded - Baccalauréat holders only
1 passport photo (to staple to the enrolment form)
Proof of civil liability insurance (

attestation de responsabilité civile

) covering the student for internships
Photocopy of the European Health Insurance Card or private medical insurance which provides the same coverage as French Social Security - for international students within the EEA
Proof of entitlement of the parent insurer or spouse, with the student's name indicated, or proof of entitlement in the student's name under the parent's insurance number - for students not enrolled in the Student Social Security only
Photocopy of the work contract - for students with an employer
Certificate confirming participation in the Defence and Citizenship Day (

Journée Défense et Citoyenneté

) - for French nationals
Disability certificate issued by an authorised body (for students with disabilities)
Medical certificate - for medical conditions preventing participation in sports activities
Conditional notification of a scholarship award - for scholarship students
Cheque for the payment of fees. Click here for further information.
Published on February 16, 2017
Updated on November 22, 2017
Re-enrolment
HOLIDAYS
Half term: October, 28 - November 5, 2017
Christmas: December 23, 2017 - January 7, 2018
Winter: February 24 - March 4, 2018
Spring Break: April 28 - May 13, 2018

Welcome !