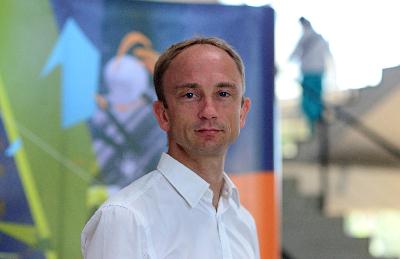 teacher-researcher
Guillaume MOREAU
Dean of Studies, Professor of Computer Science
Contact details
E215
Phone

(+33) 240 37 68 47

Fax

(+33) 240 37 25 78

Office 2

CERMA / Ecole d'Architecture de Nantes

Email

Personal Website
Academic discipline(s)
Computer science
Taught academic discipline(s)
General computer science (common core and computer science major).
Responsible of the Virtual Reality Major.
Research topics
CNRS UMR 1563 Ambiances, Architectures, Urbanités - Institut de Recherche Sciences et Techniques de la Ville

Virtual Reality, Augmented Reality, Geographical Information Systems
Activities / Resume
Education
Accreditation to supervise PhD students (HDR), Nantes University, 2009
PhD in Computer Science, University of Rennes I, 1998
Engineering degree, IIE, 1995
Positions
Professor, Computer Science, at Ecole Centrale de Nantes, since 2011
Associate professor, Computer Science, at Ecole Centrale de Nantes 2002-2011
Research fellow at Armines-Ecole des mines de Paris, 1999-2002
Industrial postdoctoral position at INRIA Rennes, 1998-1999
Responsibilities
Dean of Studies since September 2016
IT Systems Director at Ecole Centrale Nantes 2006-2013
Director of the Computer Science and Mathematics Department 2012 - 2016
Head of the Virtual Reality Specialisation, 2014 - 2016
Additional information
Recent papers
Yang, L. ; Normand, J.M. & Moreau, G (2015) Local Geometric Consensus: a general purpose point pattern-based tracking algorithm, IEEE Transactions on Visualization and Computer Graphics, Proc. of ISMAR 2015.
Callier, S. ; Saito, H. & Moreau, G. (2015) Real Time Detection and Tracking of Printed Maps Based on Road Structure, ITE Transactions on Media Technology and Applications, 3(1) 85-94.
Vigier, T. ; Moreau, G. & Siret, D. (2015). Impact of Visual Cues on Climate Perception in Virtual Urban Environments: a User Study. 9th International Conference on Information Visualisation, Barcelona, Spain.
Verhulst, A. ; Normand, J.M. & Moreau, G. (2015). Visually-Realistic Appearance Changes of Fruits and Vegetables using Particle Systems. Proc. Computer Graphics Interface (CGI'15), Strasbourg, France.
Carolan, S. ; Moreau, G. ; Magnin, M. & Chinesta, F. (2015). Towards the effective use of available educational resources : Designing Adaptive Hypermedia Environments for the Engineering Sciences. IEEE International Conference on Advanced Learning Technologies, Hualien, Taiwan.
Yang, L ; Normand, J.M. & Moreau, G (2015) Augmenting off-the-shelf paper maps using intersection detection and Geographical Information Systems. IAPR Machine Vision Applications, pp. 190-193. Tokyo, Japan.
Published on September 8, 2008
Updated on October 18, 2018
Personal website
Publications list