Centrale-Audencia-ensa business incubator: a dedicated space for start-ups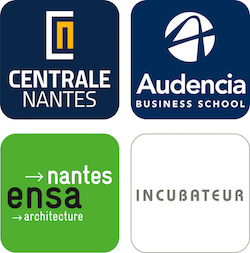 The Centrale-Audencia-ensa business incubator brings together initiatives stemming from the
Centrale, Audencia, ensa Nantes Alliance
. The three establishments decided in January 2015 to combine their entrepreneurial support services on offer to their researchers, students and graduates in order
to boost the creation of innovative start-ups.
Objective:
Ensure that entrepreneurs benefit from the best environment in which to develop their project, test business models and build their teams.
Services
:
A dedicated work space

A support programme to acquire the key skills of an entrepreneur

Contact with a network of entrepreneurs and alumni of the three establishments
Who can join the incubator?
Students and graduates of the three establishments of the Alliance with a mature project (solution, market, team).
They may have already followed courses in entrepreneurship - as a specialisation at Centrale, or as a major or an option at Audencia - or trained in project management via, for example, a major in Marketing in the Digital Age or a Master in Communication and Media at SciencesCom. Researchers and PhD students in the laboratories of the three establishments are also eligible to join the incubator.
NB To be accepted within the incubator a formal business creation plan is required. A committee has the final say as to the acceptance of a project. This committee is composed of business creation support and finance experts, the incubator's coaches and ex-incubatees.
AKRYVIA is an industrial start-up which is developing an innovative metal cutting process aimed at achieving laser precision with the productivity and cost of plasma.

BAMBOO BIKE

Bamboo Bike revolutionizes your movements by offering a range of bamboo bicycles with and without electric assistance, our products are specially designed and equipped with essential features for urban cyclists. Our bamboo frames transform these bikes into a unique, eco-friendly and comfortable method of transport.
We are developing an innovative process that significantly reduces manufacturing time to make these bikes accessible to a wider audience.

BEE HEALTHCARE (BHC) is revolutionizing access to your veins and arteries through the development of innovative medical devices.
Their first medical device is a breakthrough in automated blood collection and catheter placement.

For (future) modern and connected mums looking for wellness solutions.

Captain Data is a web and data agency specializing in high value-added web and mobile application design, especially in data management and processing.
D-ICE Engineering is an innovative engineering and research company specializing in hydrodynamic simulation and advanced automation
Details to come.
Since 2018 Lowly is the new name for Goji.
Lowly is a new state of mind, a way of life that helps you slow down to remember how to concentrate on the best of daily life, the present moment.
Lowly is personal assistant connected jewellery, which filters important calls and reminds the wearer of daily appointments and tasks via custom vibrations.
HO KARAN is the first Breton brand offering cosmetics made from earth and marine elements.
A range of organic and local skincare products to offer men cosmetics that respect their skin and the environment.
Humaid is a crowdfunding platform dedicated to supporting people in difficulty. It provides a financing solution for people who are vulnerable because of their economic or social situation.
SUPER-CRM to prospect on social networks
Annotate, classify, share your profiles with a click directly from social networks.
iD CITY provides a collaborative platform that can be integrated into any website or intranet in 2 clicks.
InVirtus Technologies positions itself as a "Proximity Strategist" with an IoT-generated analytics-driven platform focused on the management of big data.
Mail14 Formation is specialized in preventative healthcare.
The company teaches physiotherapists innovative care and prevention methods and sells specialized products to finally put an end to back problems.
Thanks to new business models and digital technologies, MyGooder wants to address the main "business pains" of customer and non-customer experience in the home help market.
NATEKO is a team of designers combining an integrated design office and an industrial production site for the design and manufacture of its range of lodges.
Nextflow Software provides Computer Aided Engineering (CAE) solutions and services to help companies design, develop, validate and operate better product faster.
Peek'in originated from the desire to enable professionals to give their customers good news and to perfect customer experience. How: we facilitate the return of the personal belongings forgotten during their stay.
SMARTENON helps businesses transform office buildings.
SMARTENON's prime objective is to deliver intelligent buildings for the benefit of their users, we pay particular attention to intended customer use as well as quality.
This software publishing company offers semi-automatic modelling software for the industrial environment based on 3D point clouds, in order to generate 3D building models (or BIM - Building Information Modelling) more easily.
VALWIN helps health professionals to position themselves online, in an ethical and secure environment.
VELCO is your connected partner for cycling. We managed to solve the three major problems of the cyclist with a 100% 'Made in France' solution: Wink.

XSun's drone services support the inspection and control of your transport and energy networks, for a more precise monitoring of your infrastructure.
Zephyr & Borée is a startup that specializes in sea shipping by sail freight.
Published on November 10, 2016
Updated on January 24, 2018
Contact
Sébastien RO
NTEAU
Incubator Director
Associate professor in Entrepreneurship and Strategy at Audencia.
sronteau@audencia.com

Laure QUEDILLAC
Deputy Director
Follow the incubatees