Robotics Platform
Research is underway at Centrale Nantes in three fields of robotics: production, land and air mobile robotics, and humanoid robotics and natural interactions. State-of-the-art equipment has recently been acquired to power the platform as part of the Robotex FEDER collaborative project.
Production Robotics
The work carried out in this field is divided into three main axes, all linked to theoretical and industrial questions:
Mobile and agile handling for production robotics: scientific issues linked to the synthesis of mechanisms, precision gripping, manipulability of soft bodies, recognition of the shape and composition of manipulated objects.
Design and control of robots capable of generating a high level of acceleration whilst maintaining a high level of accuracy: scientific issues related to optimal design, vibration modeling and parameter identification, real-time metrology, robust control, managing redundancy
Robotic machining: scientific challenges linked to the optimization of the robot's actual behavior, the robot's adaptation to the process, and robust and interactive control.
Mobile Robotics
Mobile robotics aims to deploy reliable robots, with applications for intelligent transport vehicles in the urban, industrial and natural environments. With autonomous navigation and decision-making autonomy, the research is focused on tracking and control to ensure safe robot navigation in particularly dynamic environments.
Researchers are working on tomorrow's vehicles: tracking and driving assistance with the Renault Fluence ZE electric vehicle, autonomous vehicle applications with the Renault Zoé ZE electric vehicle and the DEL20203DUB HDK electric golf cart.
Humanoid Robotics and Natural Interaction
Understanding of human sensory and motor functions and use of this knowledge in the synthesis of artificial robotic systems.
Function synthesis for locomotion, manipulation and perception in collaboration with humans
Development of natural multimodal interaction and learning capabilities
Integration of different dimensions in the management, in the activities of perception and cognition in artificial systems.
Research on the robotic platform concentrates on the learning and synthesis of motor and sensory functions and their development and on the planning / control of movements and the dynamics of walking. The humanoid robotic cell hosts the robot ROMEO and its younger siblings NAO.
Focus on ROMEO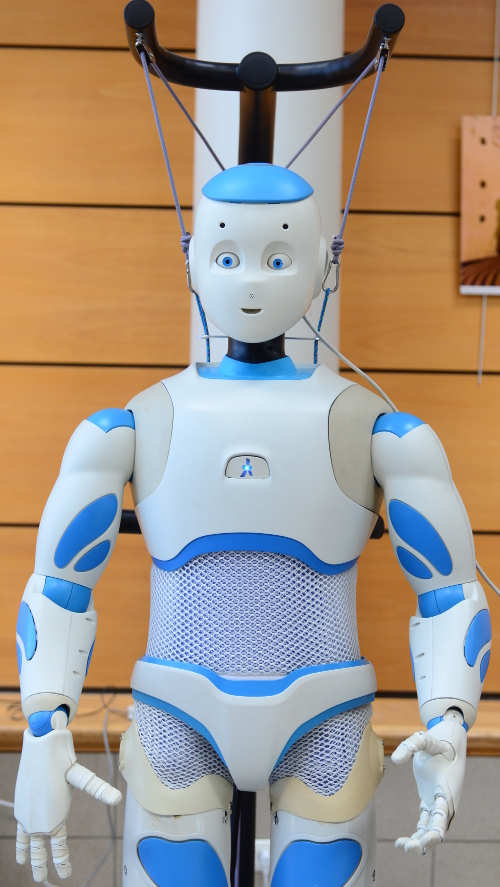 Developed by Aldebaran
41.5kg - 1467mm
Degres of freedom: 37 (6 per leg, 8 per arm including 1 to close the hand, 1 for the trunk, 4 for the head including 2 in the neck and 2 in the head, 2 per eye)
Sensors: 4 cameras (1 in each eye and 2 on the forehead), 2 loud-speakers, 4 microphones, 3 touch sensors on the head, 2 inertia units (on in the head and one in the abdomen) and 16 effort sensors (8 per foot).
Published on March 23, 2017
Updated on March 9, 2023