ICT at Centrale Nantes
The ICT department at Centrale Nantes supports the teaching staff in injecting innovation across the teaching programmes.
Objectives
Provide the teaching staff with technical and teaching support
Facilitate best practice exchanges
Support the creation of digital content
Develop teaching initiatives
Participate in the development of a digital campus
SUPPORT
Teaching support:
in class
scenario development
Support for technological and teaching innovation:
Monitoring tools and practices
Evaluation of methods
Development of innovative practices
MOODLE

Training - activites and resources
user support: moodle@ec-nantes.fr
https://hippocampus.ec-nantes.fr
TEACHER TRAINING AND EVENTS
Innovation in teaching seminars organised within the Alliance framework
Teacher training for PhD students
Creativity workshops
SKILLS-BASED APPROACH

Objective: adopt a skills-based approach to teaching and assessment.
INTERACTIVE CLASSROOM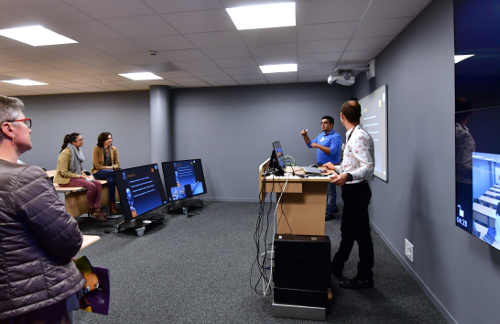 46 seats, 2 cameras and 12 microphones, built-in power sockets, whiteboard and projector, feedback screens
Means: HD video-conferencing, recording, interactive whiteboard, collaborative applications
For: interactive classes, distance/local learning, experts at a distance, video laboratory links, seminars etc.
Collaboration between establishments, accessibility, innovative teaching, teaching continuity
CHOICE OF ELECTIVE COURSES
Objective: help first year students choose their elective classes.
EXPLORE THE OPTIONS
Help students choose their courses, provide course information to eligible applicants, businesses and staff. Enhance the option eco-system.
ENHANCED HANDOUTS
Objective: improve the content of lecture handouts to engage the reader.
Perspectives: roll-out across the entire engineering programme (Nantes and Beijing) and development of an automated creation production line.
Published on March 9, 2017
Updated on December 19, 2017