Atlanpolitan breakfast on high performance computing
"Modelling, simulation, artificial intelligence ... Discover the super powers of high performance computing!" Visit the campus on 21 November for a breakfast meeting on high performance computing and a visit of the supercomputer organized by Atlanpôle, technopole and member of the European Business and Innovation Centre Network.
On November 21, 2017 from 07:45 To 10:00
On November 21, 2017 from 07:45 To 10:00
On November 21, 2017 from 07:45 To 10:00
On November 21, 2017 from 07:45 To 10:00
Isabelle LE ROUIC 02 40 25 01 23
lerouic@atlanpole.fr
A key Atlanpôle networking activity, the monthly breakfasts bring together heads of companies, project leaders, researchers and innovators over a coffee and croissant and, more importantly, a current topic related to technological development and innovation.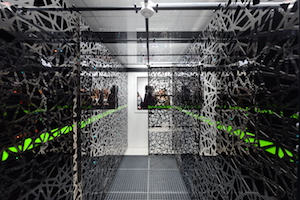 High Performance Computing is used for tasks that require extensive computing power: big data processing, modelling, simulation, imaging etc. It reduces the number and cost of tests, optimizes manufacturing processes and encourages the exploration of new solutions across many fields: aeronautics and space, transport, energy, chemistry, medicine and biology, materials, environment, multimedia and finance etc.
High performance computing represents a major competitive issue for companies and research organizations. Thanks to the campus's
regional supercomputer
, it is now accessible for SMEs.
What can high performance computing do? How to benefit? How can SMEs get access?

SPEAKERS
Cyrille CHAUDOIT - Director of Innovation, THE LINKS

Pierre-Antoine GOURRAUD - Professor, Nantes University/Nantes University Hospital

Erwan JACQUIN - CEO, HYDROCEAN

Luisa da SILVA - Director - High Performance Computing Institute, CENTRALE NANTES
Register for the post-breakfast visit to the Centrale Nantes supercomputer, one of the most powerful French centres for high performance computing:
* Free entry / registration mandatory
Published on November 8, 2017
Updated on November 8, 2017