International (partnership / study)

,
Centrale Nantes at the T.I.M.E. General Assembly 2019
Representatives have come together for the T.I.M.E. General Assembly 2019, hosted by Centrale Supelec from 16-18 October. T.I.M.E. is celebrating its 30th anniversary this year.
from October 16, 2019 to October 18, 2019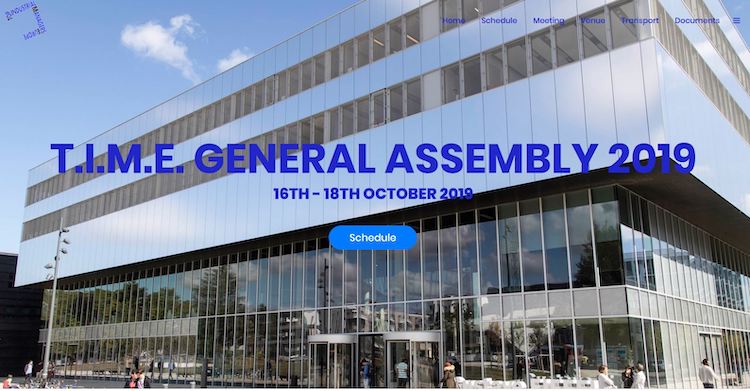 Professor Fouad Bennis, Director for International Relations, Frédéric Dorel, Deputy Director for the T.I.M.E. International Network, Anne-Laure Fremondière, International Co-operation Manager, Clémentine Houssais, International Mobility Manager, are representing Centrale Nantes this week at the T.I.M.E General Assembly at Centrale Supélec.
The General Assembly brings together delegates from the association providing a platform to discuss and exchange ideas on engineering education, international collaboration, innovative perspectives and industrial development.

Programme
Inspiring T.I.M.E. Workshops about international academic partnerships, international mobility, successful international strategies.
International study fair bringing together higher education institutions from CESAER and the T.I.M.E. Association
Conferences regarding the S&T education and training tackling the challenges of the 21st Century
Celebration of the T.I.M.E.'s 30th Anniversary


T.I.M.E. (Top Industrial Managers for Europe)
The T.I.M.E. Association was founded in 1989. All T.I.M.E. members, including Centrale Nantes, are leading technical universities or engineering schools in their home country. They all have a strong international dimension in their research, teaching and industrial relations and they are all committed to international cooperation, student exchanges and the recognition of study abroad.
T.I.M.E. is an international network consisting of 56 technical universities and engineering schools in 21 countries including Australia, Brazil, Canada, China, Russia, Japan, as well as European countries. The association organises double degree opportunities for students from T.I.M.E member institutions under bilateral agreements.
Published on October 17, 2019
Updated on October 17, 2019