M.R.E.

,

Research

,

SemRev

,
Centrale Nantes is taking part in the 2019 edition of FOWT
FOWT - where the big names in the offshore floating wind industry meet once a year.
From April 24, 2019 to April 26, 2019 All day
From April 24, 2019 to April 26, 2019 All day
From April 24, 2019 to April 26, 2019 All day
From April 24, 2019 to April 26, 2019 All day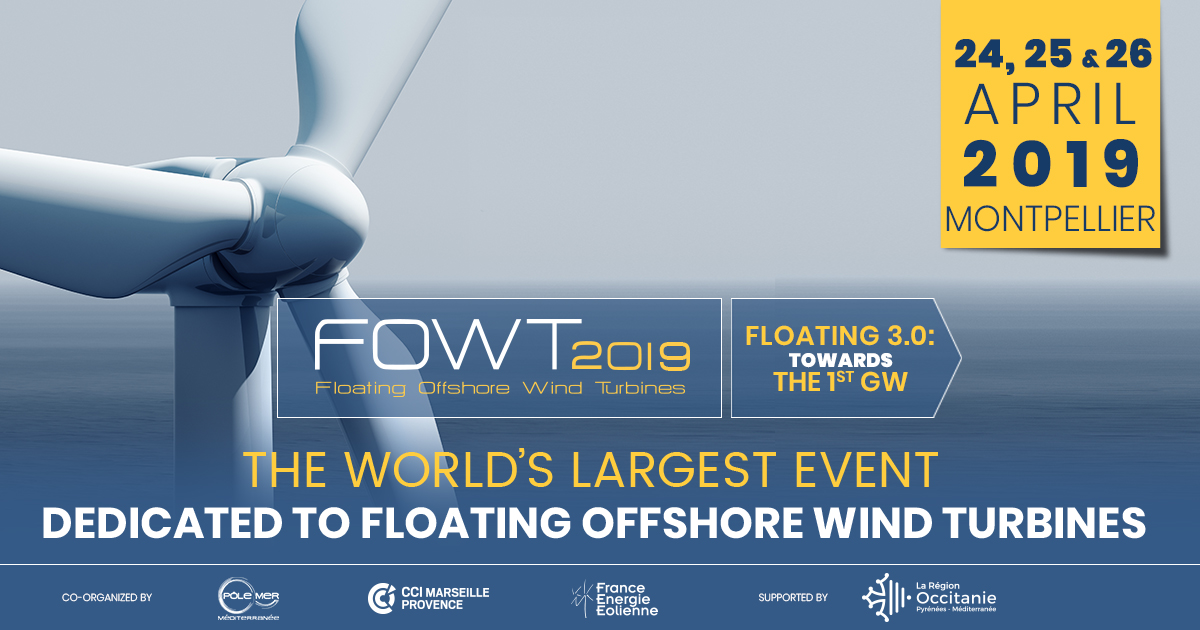 4th edition of FOWT
The fourth edition of FOWT (Floating Offshore Wind Turbines) will be held in Montpellier from 24 to 26 April 2019.
FOWT's goal is to advance the sector and accelerate its integration into the renewable energy mix. This event is intended to generate constructive discussions between the various players and stakeholders in this emerging industry. This is also why the organizing committee has set a very affordable registration fee and opted against the "pay to speak" principle.
Centrale Nantes' participation
For this fourth edition, several LHEEA researchers and research engineers will be present. Of particular note, the participation, during the workshop entitled
"Global performance assessment with both numerical and experimental tools",
of:
Sandrine Aubrun on "Research investigations on multiphysic and multiscale key topics for floating wind turbine behaviour", and

Jean-Christophe Gilloteaux on "Coupled simulations of Floating Wind Turbines: impact of unsteady aerodynamics on seakeeping".
Support from four regions including the Pays de la Loire
The partnership between the regions of Brittany, Occitanie, Pays de la Loire and Provence-Alpes Côte d'Azur and the co-organizers of FOWT will give further dimension to the 2019 edition. These regions are indeed among the main contributors to the development of the sector through their investments in infrastructure and their support for business ecosystems on their respective shorelines.
The involvement of the four regions in this new edition reflects their desire to move towards to a single international offshore wind turbine event in France in 2020. With this in mind, Brittany and the Pays de la Loire do not plan a 2019 edition of the FWP Atlantic Forum held annually since 2016.
Published on March 29, 2019
Updated on April 25, 2019