International (partnership / study)

,

Master

,
Centrale Nantes welcomes TOTAL
Centrale Nantes was delighted to welcome Ms. Christelle LAVALOU and Ms. Nathalie GOSSELIN, Coordinators of Educational Programmes at TOTAL, to discuss TOTAL's scholarship programme for Centrale Nantes international Master students and the TA-VIE European Project.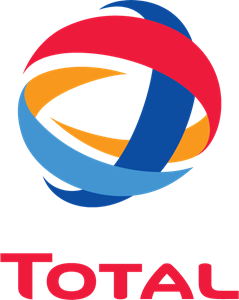 In order to meet industrial expectations in terms of research and innovation with the training and selection of students from the best international institutions, Centrale Nantes develops specific scholarship programmes with industrial companies such as TOTAL.
Centrale Nantes has been collaborating with TOTAL since 2009, welcoming international students on our Master programmes, with scholarships from TOTAL.
During their visit, Ms Christelle LAVALOU and Ms. Nathalie GOSSELIN met with:
Fouad Bennis, Director for International Relations
Anne-Laure Frémondière, International Cooperation Manager
Sarah Alami, International Relations Manager - (Master programmes)
Frédéric Dorel, Erasmus+ Institutional Coordinator
Nigerian students currently pursuing a Master programme at Centrale Nantes, on a TOTAL Scholarship.
TOTAL is also participating alongside Centrale Nantes, in a European Project: TA-VIE (Tools for Enhancing and Assessing the Value of International Experience for Engineers). This project is assessing the importance of global competence in the process of recruiting engineers. Frédéric Dorel, Erasmus+ Institutional Coordinator at Centrale Nantes, presented the TA-VIE project, setting out how corporations, such as TOTAL, play a major part in shaping the curriculum.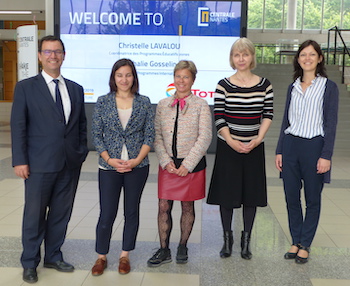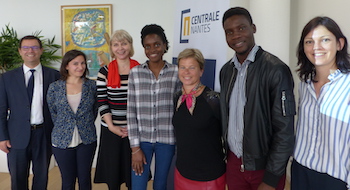 Published on June 5, 2019
Updated on June 5, 2019