Conference: Cobotics and the challenges ahead for organisation, health and safety at work
Cobotics refers to collaboration between man and robot - either directly or by remote control. ITII Pays de la Loire invites you to a conference at Centrale Nantes to discover how cobotics can be used, now and in the future, in the workplace to improve organization, and health and safety.
On April 24, 2019 from 17:00 To 19:00
On April 24, 2019 from 17:00 To 19:00
On April 24, 2019 from 17:00 To 19:00
On April 24, 2019 from 17:00 To 19:00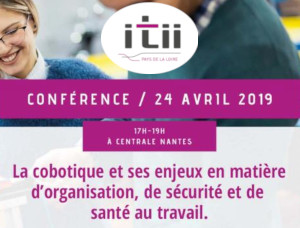 Work isn't getting any easier, work life is getting longer and the population is ageing. In this context, technological innovation is multiplying in the workplace and cobotic solutions are taking hold. Man and machine will interact more closely tomorrow than today and the development of cobotics and cobots will have an increasing impact on the behaviour of operators, managers and safety personnel across very varied sectors.
The conference organized by the ITII Pays de la Loire at Centrale Nantes will introduce you to the future uses of cobotics and cobots and anticipate the likely issues involved.
What are repercussions for the workplace? How are they associated with organizational change? What are the challenges regarding occupational health and safety?
These questions will be at the heart of the debate during this conference. Several speakers will present their point of view and share their experience:
Speakers:
Jean GUERNIC (speaker)
Lionel MOUSSUS (CARSAT Pays de la Loire)
A representative of INRS
Marion PAUTHIER (E-COBOT, Ingénierie Cobotique)
Magali CHATAL (ESPACE SAS, client of E-COBOT)
The conference will be held at Centrale Nantes, on Wednesday 24th April from 5 to 7 pm in lecture theatre E.
If you would like to attend please confirm by email:
communication@itii-pdl.com
or by phone: 02 28 03 69 09.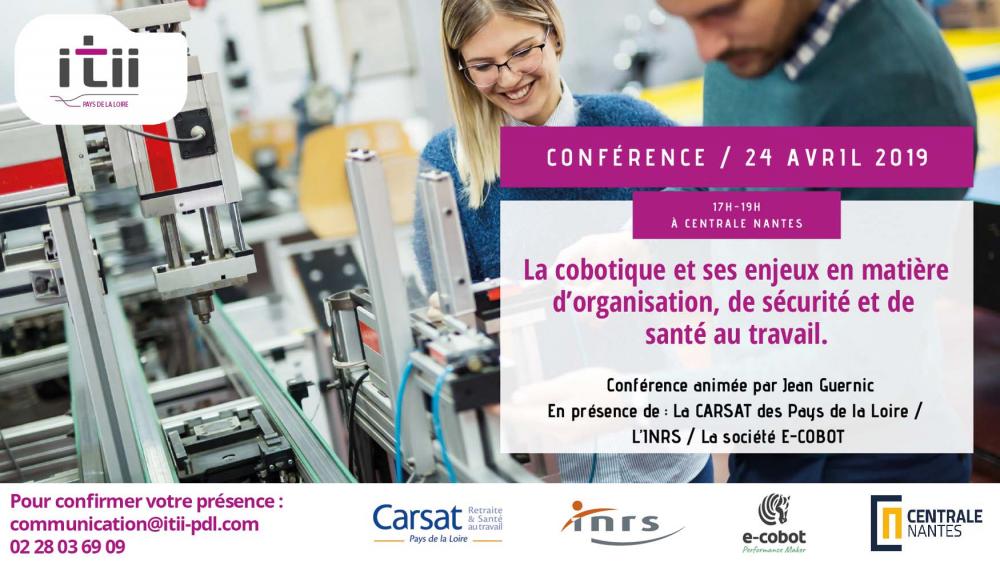 Published on April 1, 2019
Updated on April 8, 2019