ISITE NExT

,

<Unknown label>

,
Creative marathon on "Future health"
Students are invited to take part in a creative marathon organised by the University of Nantes, Nantes University Hospital and Pépite Bretagne Pays-de-la-Loire within the NExT framework on Tuesday 4th June 2019.
On June 4, 2019 from 09:00 To 18:00
On June 4, 2019 from 09:00 To 18:00
On June 4, 2019 from 09:00 To 18:00
On June 4, 2019 from 09:00 To 18:00
On June 4, 2019 from 09:00 To 18:00
On June 4, 2019 from 09:00 To 18:00
On June 4, 2019 from 09:00 To 18:00
On June 4, 2019 from 09:00 To 18:00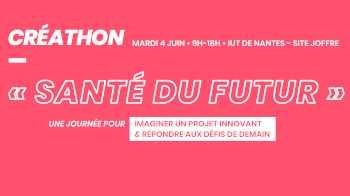 A multidisciplinary creative marathon to try out project creation and innovation
Open to Centrale Nantes and University of Nantes students, this first "Future health" hackathon will
raise student awareness about entrepreneurship
and is part of the "Innovation" action within the NExT Initiative. The event is also open to students from NExT partner institutions: IMT Atlantique and Oniris. The participants, working in multidisciplinary teams, will have
one day to come up with an innovative solution in response to one of the challenges proposed by Nantes University Hospital
. Teamwork will be broken down into 3 phases:
Ideation and creativity
Structure
Pitch
This event is an opportunity for students from diverse backgrounds, to discover project management tools that will be useful throughout academic and professional career: brainstorming, business model, empathy map, oral presentation techniques, etc. This type of exercise is also an opportunity to reveal project management skills (listening, team work, adaptability, stress management, creativity, formulation of ideas, ability to learn from mistakes) and is a valuable addition to any CV.

Future health: a flagship theme for NExT
For this first edition, Nantes University Hospital will propose challenges across various themes, which are accessible for everyone: e.g. quality of life at work, making work less arduous, food and diet, patient discharge, how to equip professional premises, workspaces and innovative meeting rooms, etc. Members of staff from Nantes University Hospital are also invited to participate in the event to bring their field perspective to the theme and the challenges facing students.
While "Future health" is one of the scientific priorities of the NExT initiative, the objective of this creative marathon is to
mobilize students around key issues, to generate new projects, and to create a momentum for action amongst the founding members of NExT
. The final pitching phase and the awards ceremony will be open to staff from the founding members of NExT.
Published on May 6, 2019
Updated on May 9, 2019