Disrupt' Campus Nantes present at the Digital Change Exhibition
The Disrupt' Campus Nantes digital innovation training programme will be present at the Digital Change Exhibition on 22 and 23 January 2019 - stand 44 in hall XXL at the Parc des Expositions, Nantes.
From January 22, 2019 to January 23, 2019 All day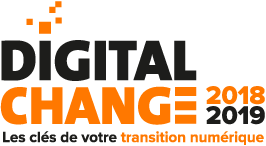 Disrupt 'Campus Nantes proposes a new mechanism for entrepreneurship and innovation to support the digital transition issues facing companies, led by a consortium of three institutions: Centrale Nantes, the University of Nantes and the Ecole de Design Nantes Atlantique.
This 5-month program culminates with the award of an inter-university diploma for registered students who collaborate with companies, associations and communities on real subjects.
Published on January 17, 2019
Updated on January 18, 2019