Join us LIVE on Campus Channel: Master in Control and Robotics at Centrale Nantes
Top ranked Centrale Nantes wants you to come and shake the future with us!
Join an interactive Q&A with Centrale Nantes' Marie-Pierre PECHOUTRE, International Relations Manager, and Houssein, a current PhD candidate, on Monday 9 March at 3pm (UTC+1).
On March 9, 2020 from 15:00 To 16:00
On March 9, 2020 from 15:00 To 16:00
On March 9, 2020 from 15:00 To 16:00
On March 9, 2020 from 15:00 To 16:00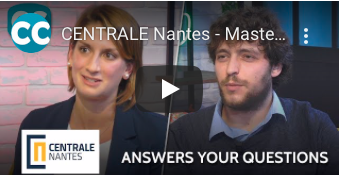 If you are interested in world class training in Control and Robotics,
tune in for an interactive session live on Campus Channel
for all you need to know about the
Control Systems
(C-SYS) Master's Programme and the new Erasmus Mundus Joint Master Degree -
Electric Vehicle Propulsion and Control
(E-PiCo).
During this live Q&A session, you'll be able to
ask questions about anything related to our city, campus, and programme
.
Houssein will tell you what it's really like to study at Centrale Nantes.
The Centrale Nantes Master's programme in Control Systems is a
fully accredited two year programme taught in English
, (no French language admission requirement). The quality of this programme was recently recognized by the European Union through the
creation of a new Erasmus Mundus joint master: E-PiCo
.
E-PiCo
is a 2-year Master programme that offers useful and necessary multidisciplinary topics in the e-mobility field. E-PiCo will provide technical and scientific solutions to the issue of fossil consumption and greenhouse gas emission. It is devised to train students in the field of e-mobility in order to have them work towards ecological transition. It is directly applicable to industry by training future electric propulsion system expert graduates.
Control Systems is one of four specialisations available in the second year of the Control and Robotics stream
. The other three are: Advanced Robotics, Signal and Image Processing, Embedded Real Time Systems.
Published on January 28, 2020
Updated on January 29, 2020