LIVE WEBINAR: Master in Industrial Engineering at Centrale Nantes
Come and shake the future with us in Industrial Engineering!
Join Centrale Nantes' Prof. Alain Bernard, Head of the Industrial Engineering Master Programme, and Sarah Alami, International Relations Manager, on Tuesday 22 January at 5pm (UTC+1).
On January 22, 2019 from 17:00 To 18:00
On January 22, 2019 from 17:00 To 18:00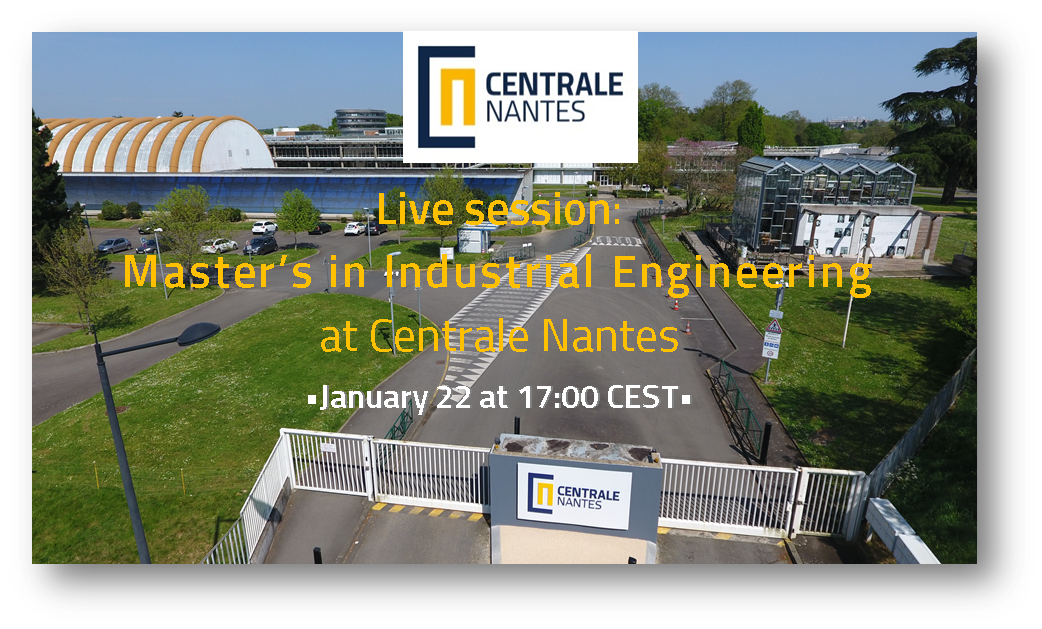 Interested in agile factory management or company management in the context of new information environments? Want to be able to model production systems and enterprises to improve performance and optimize inter-operability between information systems? If so, this live information session is for you.

The Centrale Nantes Master programme in Industrial Engineering is a fully accredited two year programme taught in English, (no French language admission requirement).

During this live session, we will give you an overview of Centrale Nantes, and present the Master programme in Industrial Engineering headed up by Prof. Alain Bernard. Learn about life on campus, who we are, our facilities, employment and internships, the two areas of specialization (Agile Factory Management and Smart and Connected Enterprises) and course content including new technologies like IoT, and interaction technologies including virtual and augmented reality.

Plenty of time is set aside for you to ask questions following the presentation.



Published on January 17, 2019
Updated on January 18, 2019