"My thesis in 180 seconds" Competition: public registration open
The 'My Thesis in 180 seconds" competition is open to the public. Free (mandatory) registration to attend the event at Stereolux and vote for your favourite presentation.
On March 6, 2019 All day
On March 6, 2019 All day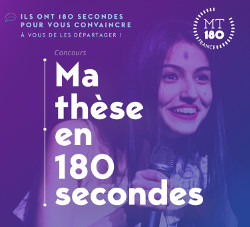 How does the competition work? It gives PhD students - from any discipline - the opportunity to present, in 180 seconds, their research topic to a live audience and panel at the Stereolux.

Each candidate is tasked with delivering a clear, concise and convincing presentation of his/her research to a wide, non-specialist audience in only three minutes. The panel, comprising representatives from scientific mediation, higher education and the media, will rank the best candidates. The public will also have a separate vote. Selected candidates will proceed to the regional final.

Free registration for the public is now open and necessary to be able to vote.


Published on January 16, 2019
Updated on January 24, 2019