NExT information meeting: Call for Deeptech Founders applications
In partnership with Deeptech Founders, NExT is launching the NExT x Deeptech Founders programme. NExT x Deeptech Founders is entrepreneurship training delivered by scientific entrepreneurs who have achieved unquestionable success in their approach.
On December 18, 2018 All day
On December 18, 2018 All day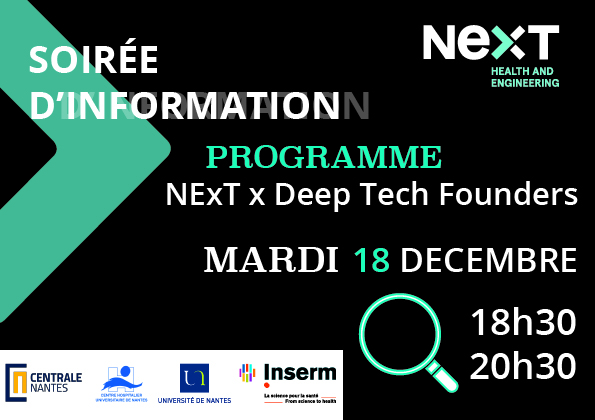 Are you a researcher, engineer, student or recent graduate? Do you have advanced technology with proof of concept? Are you looking to assess the relevance of starting up a new venture? NExT is launching a call for projects:
NExT x Deeptech Founders
.
To this end,
NExT
and Deeptech Founders are organising a meeting to provide information about this training program on Tuesday 18 December from 6.30 to 8.30 pm at Centrale Nantes (in lecture theatre E).
Programme
Presentation of the call for applications
Presentation of the training program by Robert Marino of Deeptech Founders
Q&A
Cocktail reception
Published on December 11, 2018
Updated on December 19, 2018