Round Table on 'Childhood, robots and screens'
What place should digital objects - from robots to screens – have in childhood? Join in the discussion and discover new experiments in therapeutic and/ or family mediation. Sign up for the free conference, from 7pm to 9pm on Tuesday, November 21st in the Maxi Room at STEREOLUX.
On November 21, 2017 from 19:00 To 21:00
Building on the experiences of the partners involved in the
Rob'Autisme
Nantes workshop, this round table will broaden the discussion towards other experiments observed by Serge Tisseron.
The psychiatrist and renowned expert, will address more specifically the place of the digital objects in childhood and adolescence, in the context of therapeutic and / or family mediation, and the hopes and fears associated with it.


Expert speaker: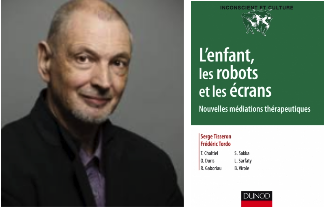 Serge Tisseron
Psychiatrist, with a PhD in psychology and senior research fellow at University Paris VII Denis Diderot. President and founder of IERHR (
Institut pour l'Etude des Relations Hommes Robots
) and author of numerous publications.


Speakers and partners of the Rob'Autisme project:


Cécile Liège,

sound creation speaker during the workshops; Sound director and journalist
Sophie Sakka, robotics (Nao) speaker during the workshops; Doctor in robotics, specialized in humanoid robotics, Researcher and lecturer at École Centrale de Nantes, CNRS Robotics Project Manager, Founding President of Robots!
Arnaud Poitou, professor, former Director of Centrale Nantes
Rénald Gaboriau, Speech therapist at Nantes University Hospital, supervising the group of young people with autism during workshops
Thierry Chaltiel, Child Psychiatrist at Nantes University Hospital
Sonia Navarro, Cultural Action at Stereolux, coordination of the Rob'Autisme project, cultural action for specific audiences.
Moderator: Elsa Gambin, Journalist (Social Work-Society-Culture)
Published on November 6, 2017
Updated on December 20, 2017