Student Business Project Presentations (P2E)
Our first-year engineering students will present the studies they conducted for and with various companies in the region: their P2E (Student Business Project) on Tuesday 18 June 2019, from 9:00 am to 12:00 pm and from 2:00 to 5:00 pm.
On June 18, 2019 All day
On June 18, 2019 All day
On June 18, 2019 All day
On June 18, 2019 All day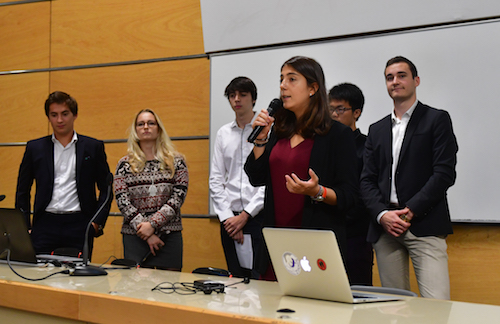 First year students have the opportunity to work on a study project tackling a technical, environmental, economic and / or organizational problem.
These presentations are open to the public
. Five or six projects are presented in ten different themed sessions.
Programme
Morning: 9.00 am to 12.00 pm
Product Engineering
Eco-materials, Techniques and Energy Transition
Production Tools and Industrial Engineering
IT and Information Systems
Digital Applications and Robotics
Afternoon: 2.00 to 5.00 pm
Product Engineering and Industrial Engineering
Civil engineering, water and soil management
Engineering for Ecological Transition
Sustainable Business and City
Energy improvement in buildings
NB some projects do not appear in the programme above because of their confidential nature. These projects will, if possible, be presented at the end of each of the half-day sessions. Only the student team, the project tutor, the company representatives and the panel may attend these presentations.
Published on May 29, 2019
Updated on June 7, 2019