International (partnership / study)

,

Research

,
The 10th Centrale Beihang Engineering Science Research Symposium to be held at Centrale Nantes
Centrale Nantes will host the 10th Ecoles Centrale Group and Centrale Beihang research symposium on Thursday 4 July 2019.
On July 4, 2019 All day
On July 4, 2019 All day
On July 4, 2019 All day
On July 4, 2019 All day

This symposium, which is held on an annual basis, alternating between France and Beijing, maintains collaboration in terms of teaching and research between the different institutions that make up the
Ecoles Centrale Group
.
This year, we wish to pay tribute to Professor Lipeng Lu, who specialized in Fluid Mechanics at Beihang University (BUAA). Professor Lipeng Lu ran the 2MCSI International Associated Laboratory and was held in great esteem by the Ecoles Centrale Group.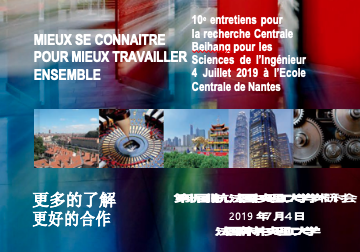 Published on May 10, 2019
Updated on June 25, 2019