M.R.E.

,

Research

,

SemRev

,
Weather buoy back in service on the SEM-REV site
SEM-REV has been involved in environmental monitoring of its site for more than 10 years. This requires measurement and monitoring tools to be installed.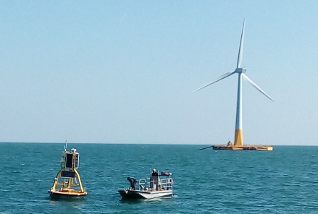 As part of its commitment to better understand the challenges associated with the development of the marine renewable energies sector, SEM-REV reinstalled its weather buoy on the offshore site in April.
This 3m-diameter buoy was designed and equipped by Centrale Nantes.
It will feed in to numerous research projects currently underway on the SEM-REV site, thanks to its various features:
Addition of a wind measurement point at the heart of the site
Continuous monitoring of water quality to meet the site's environmental requirements: TC2-Focus project.
Continuous and real-time monitoring of buoy moorings: MHM-EMR
Continuous and real-time monitoring of an umbilical: OMDYN2 project
Electrical connection and communication for an underwater acoustic observatory: EchoSonde

Bouy installation footage
Multiple skills of the SEM-REV team were deployed in order to complete this project:
numerical modelling of the anchors,
characterization of nylon lines on the traction bench and development of voltage sensors,
design and manufacture of the nacelle,
instrumentation and data transmission,
installation of a buoy connected to taut anchor lines.
The installation was successfully completed by the SEM-REV and Atlantic Scaphandre teams. The buoy will remain in place for at least one year, providing access to future projects related to technological components in MRE.
Published on April 18, 2019
Updated on May 3, 2019