Bureau Veritas - Centrale Nantes Chair
In March 2016, Centrale Nantes and Bureau Veritas established an international research chair on ships of the future, in partnership with HydrOcean and Nextflow Software.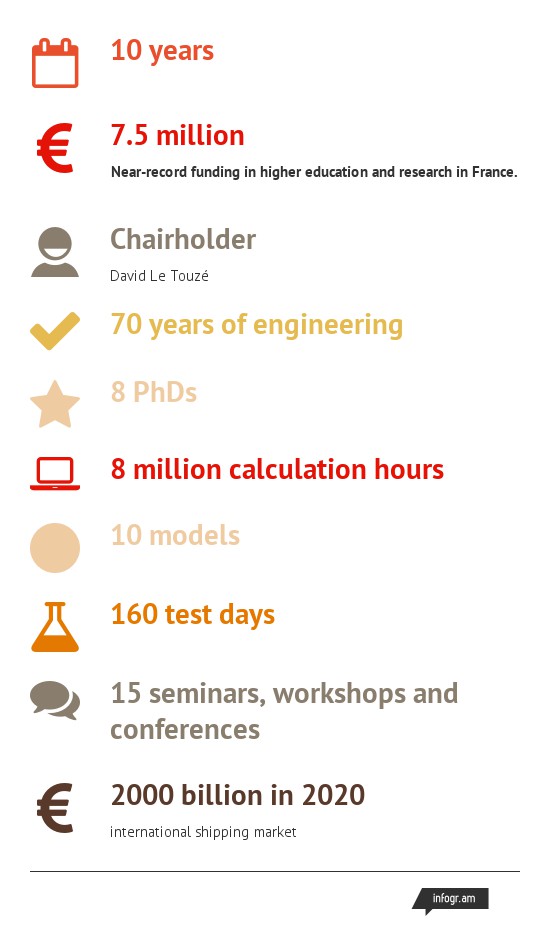 Centrale Nantes, with its excellent reputation in the field of numerical and experimental hydrodynamics, and Bureau Veritas, a world leader in testing, inspection and certification services for shipping and offshore structures, created this international chair in Hydrodynamics and Marine Structures in order to make
significant improvements in the safety and performance of ships of the future.
This ambitious research programme also involves
two spin-offs from Centrale Nantes
:
HydrOcean,

key service provider for the evaluation and optimisation of marine and offshore structure performance.
Nextflow Software

, start-up publisher of fluid mechanics software.
The involvement of these four partners in the chair will foster the emergence of
technological innovation with regards to the concept, design and performance of ships and marine structures, environmental protection and safety standards, reduced fuel consumption.
The chair benefits from exceptional resources:
Centrale Nantes

wave tanks

, which can simulate the impact of extreme storm conditions (generating the highest waves in Europe) on models.

Cutting-edge numerical simulation software

, developed by Centrale Nantes, Bureau Veritas, HydrOcean and Nextflow

High performance computing capacity

particularly with the Centrale Nantes 10,000-core supercomputer, making possible simulations that were once beyond the reach of the partners.
Research and development will focus on three key areas:
Ship safety

Interacting bodies and flexible connections

Swell performance.
"
This chair reflects Bureau Veritas' commitment to call upon the innovative capacity of the best engineers and researchers in order to establish the optimum conditions for the development of the shipping industry of the future, and thereby proposing new services to our clients to improve their performance with regard to industry standards and regulations for quality, health, safety, environmental protection and social responsibility

"
stated Philippe Donche-Gay, Executive Vice-President, Marine and Offshore Division, Bureau Veritas.
"
This new step is line with our long-established collaboration between the four establishments in the maritime field. Through the intensive use of numerical simulation tools, it will allow us to go further and more quickly together towards designing the ship in demand in civil and military sectors"
noted Arnaud Poitou, director of Centrale Nantes.
Bureau Veritas

is a global leader in Testing, Inspection and Certification (TIC), delivering high quality services to help clients meet the growing challenges of quality, safety, environmental protection and social responsibility. Created in 1828, the group has 66,000 employees working in 1,400 office and laboratories all over the world. The Marine & Offshore Division provides classification and certification services for ships and offshore structures. Its excellent scientific reputation is built on its research work and collaboration with the marine industry as a whole. The results obtained allow Bureau Veritas to provide technical support to shipowners, shipyards and other industry operators and to improve regulatory requirements and compliance.



HydrOcean

offers design support in the maritime field, with the use of innovative numerical simulation tools capable of accurately simulating the most simple to the most complex hydrodynamic phenomena. HydrOcean was founded in 2007 by Erwan Jacquin and Centrale Nantes, and acquired by Bureau Veritas in September 2015 with the objective of pursuing its development abroad. Since its inception, HydrOcean has maintained an efficient research partnership with Centrale Nantes paving the way for the joint development of innovative tools in excellent conditions, providing a clear competitive advantage.



Nextflow Software

is a publisher of fluid mechanics and hydrodynamics software. It was founded in July 2015 as an extension of the HydrOcean's software publishing activity. In collaboration with Centrale Nantes it develops innovative software for the industrial market. Its primary focus is on innovative fluid mechanics software for industry: automotive, aerospace, manufacturing, marine and offshore etc. Nextflow will take an active part in the Chair using its expertise to develop and bring innovative software to market.
Published on March 11, 2016
Updated on March 22, 2022