FAURECIA - Centrale Nantes Chair
Faurecia and Centrale Nantes set up a five-year international teaching and research chair dedicated to Industrial Composites for Automotive Applications in 2011.
Faurecia, Centrale Nantes and the Centrale Initiatives Foundation signed an agreement to establish an international teaching and research chair for Industrial Composites for Automotive Applications. The five-year initiative will support four PhD and eight Master students.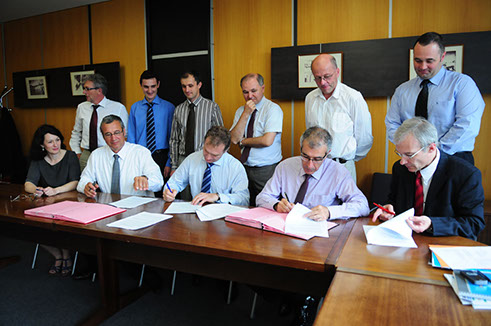 Faurecia is providing 1.8 million euros in funding for the chair. Three out of the four Faurecia business groups (Automotive Seating, Interior Systems and Automotive Exteriors) are involved alongside Centrale Nantes.

The aim of bringing together Faurecia, the world's sixth largest automotive parts supplier, and Centrale Nantes, one of the top engineering schools in France, within this chair is to develop breakthrough technologies (particularly to make parts lighter), by fostering innovative research into composite materials, their inclusion within multi-material structures and on automotive manufacturing processes.
Two main topics for the chair
under the supervision of Christophe Binetruy
:
developing and modeling processes for high series and fast continuous fibre composites manufacturing
developing tools for optimal continuous fibre composite design.
Alongside the teaching programme, specific activities are organised in order to promote the research work undertaken in the scientific community. This includes international conferences, ideal for discussion and exchange, on composite applications for the automotive sector. The first teaching programmes linked to the chair began in September 2012.
At Centrale Nantes, member of the Ecoles Centrales Group, transport represents a major area of research for its world-class research institutes.
Centrale Nantes, a key partner in Technocampus EMC2 (technological research platforms), and IRT Jules Verne (technological research institute), is developing for the transport sector:
skills within the context of the teaching programmes - engineer, master, advanced master and PhD. 1850 students are present on campus, of which: 1200 follow the engineering programme, 250 enrolled in sandwich courses, 200 master and 200 PhD students.
innovation in the fields of composite and hybrid materials, complex assemblies, advanced manufacturing techniques, fluid mechanics, structures, systems and signals and energetics.
About Faurecia

With 330 sites including 30 R&D centers in 34 countries around the world, Faurecia is now a global leader in its four areas of business: automotive seating, interior systems, automotive exteriors and emissions control technologies. Faurecia is the world's number one supplier of seat frames and mechanisms, emissions control technologies and vehicle interiors. The Group is also the world's third-largest supplier of complete seat systems and is Europe's leading name in automotive exteriors.
To find out more:
http://www.faurecia.com/en/about-us
Published on May 11, 2016
Updated on April 6, 2023