Doctorale School
Doctoral School STIM Science and Technology of Information and Mathematics
Activities
Objectives:
PhD Degree and Education of quality by research



Preparation of the professionnal integration
in an Institute/University or company for the future doctors.

Help for the national and international mobility for PhD students.

Address

Centrale Nantes 1 rue de la Noë BP 92101
44321 Nantes Cedex 3 - FRANCE

Phone.

00 33 2 40 37 69 13

Email

Website
Organization
Affiliated institution(s)
The STIM PhD School spans geographically the whole region of the "Pays de la Loire". University of Nantes (main unit), Ecole Centrale de Nantes, Ecole des Mines de Nantes, University of Angers, University of Le Mans.
Partnerships
11 Laboratories associated to the doctoral school covering 4 fields of research
AUTOMATION
IRCCyN : Institut de Recherche en Communications et Cybernétique de Nantes, UMR CNRS 6597
LISA : Laboratoire d'Ingénierie des Systèmes Automatisés, EA CNRS 4094
LASQUO: LAboratoire en Sûreté de fonctionnement, QUalité et Organisation, UPRESA CNRS 3858
COMPUER SCIENCE
LINA : Laboratoire d'Informatique de Nantes Atlantique, UMR CNRS 6241
LERIA : Laboratoire EPitech de Recherche en Informatique Appliquée
LIUM : Laboratoire d'Informatique de l'Université du Maine, EA CNRS 4023
ELECTRONIC AND ELECTRICAL ENGINEERING
IREENA : Institut de Recherche en Electrotechnique et Electronique de Nantes Atlantique, EA CNRS 1770
MATHEMATICS
Laboratoire de Mathématiques Jean Leray, UMR CNRS 6629
LAREMA: LAboratoire Angevin de Recherche en Mathématiques, UMR CNRS 6093
LMM : Laboratoire Manceau Mathématiques, EA CNRS 3263

Additional information
Equivalence of master degree. Each candidate should have a French master degree (at least 5 years full time university study) and justify for a first experience in research.
Without the French master degree, the candidate (for example with a foreign master degree) needs a special authorization given by the docotral school showing that he has the equivalent level of a French master degree and he has a first experience in research.
The three year PhD working must be financed.
All PhD students are financed either by the industry or by public fundings for the full extent of the thesis (3 years).
Organisation and coordination of scientific and professional doctoral courses, validation of each course, proposition and creation of new courses each year.
PROMOTION AND DEMONSTRATION
Organization of meetings and conferences in order to prepare the furturre integration of PhD students in the university or in the industry.
The doctoral school surpervises the authorization to the final oral defence of PhD thesis and for the qualification of PhD supervisor.
Publié le June 24, 2003
Mis à jour le March 27, 2017
Contact details
Key figures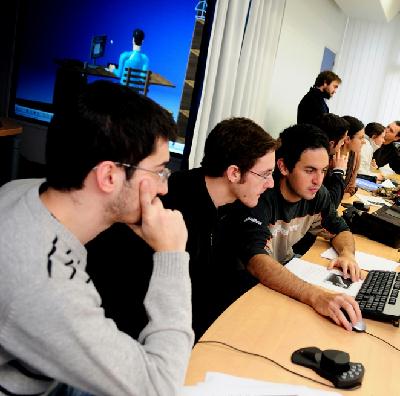 Professional careers:
Industry: 50%
University: 25%
Other : 25%
400 professors or researchers
160 qualified PhD ssupervisors
320 PhD students
80 new PhD students each year.