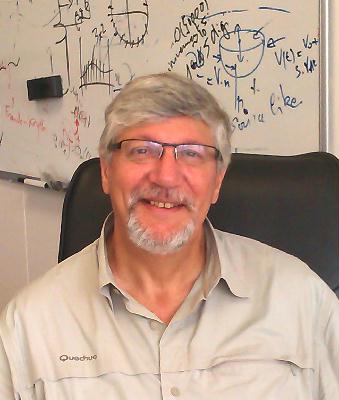 <Unknown label>
M. Alain CLEMENT
Senior Researcher Manager of the wave energy project SEAREV
Contact details
office # D209
D209
Phone

+33 240 37 25 26

Fax

+33 240 37 25 23

Email
Taught academic discipline(s)
" Free Surface Unsteady Hydrodynamics " (SSHNA from 1992 to 1997) " Gravity wave models" (DEA MFT, option Hydrodynamique et Génie Océanique) " Interaction of waves with large offshore structures " ; Mastère Spécialisé : Offshore / Équipement industriels navals . École Navale (Brest) et ENSAM (Angers) (2000-2001) Pedagogical Conferences :"Wave Energy Harvesting" . Ecole Centrale Nantes et Marseille.
Research topics
. Numerical Modelling in Naval Hydrodynamics & Ocean Engineering . Time domain free surface hydrodynamics . Wave Energy Utilization: systemic optimization and control
Activities / Resume
Engineer Mechanical & Naval engineering (ENSM 1975)
PhD in Naval Hydrodynamics (1979)
HDR Professoral qualification-Habilitation à Diriger les Recherches (1998)
* Member of the International Society of Offshore and Polar Engineers (ISOPE)
* Member of the Executive Committee of
European Wave and Tidal Energy Conference
(EWTEC) series
.
* Associate Editor of
International Journal of Offshore and Marine Energy
* Referee for the following journals:
Journal of Fluid Mechanics
Journal of Computational Physics

ASCE Journal of Waterways Port, Coastal and Ocean Engineering
Applied Ocean Research
Ocean Engineering

The European Physical Journal : Applied Physics
The European Journal of Mechanics; B Fluids
Renewable Energy
Journal of Power and Energy

Comptes Rendus de l'Académie des Sciences
Revue Européenne de Génie Civil

Journal of Engineering for the Maritime Environment
...

Additional information
Former Director of LMF Laboratory (UMR6598) at Ecole Centrale de Nantes
Publié le February 10, 2004
Mis à jour le September 9, 2014
more links
Wave energy project SEAREV