Sport, Sport and more Sport!
Passion, ambition, leadership development, conviviality, integration, respect, well-being ... sport contributes to the all-round education of an engineer.
750 student members of the Sports Association
450 students take part in sports competitions each week
Winner of the Intercentrales from 2013 to 2017 and in 2019
Winner of the Challenge Lyon from 2014 to 2018
Sport at Centrale Nantes
from the beginner to the experienced player, regular training sessions with expert supervision,
a student team that supports event organisation, coaching, refereeing and budget management,
participation in numerous inter-school sports events: Intercentrales, Lyon challenge, Supélec challenge, Telecom Brest challenge etc
regular participation in major national and international sailing and rowing events - revealing high-level athletes every year.
> 27 different sports at Centrale Nantes:
Athletics | Archery | Badminton | Basketball | Blowpipe | Canoeing | Cross Country | Climbing | Cricket | Fencing | Football | French boxing | Hand Ball | Horse riding | KravMaga | Mountain biking | Rowing Rugby | Sailing | Tennis | Table Tennis | Trekking | Ultimate frisbee | Volley-Ball | Water-polo | Weight training | Windsurfing |

Learn more about sport at Centrale Nantes: https://alpha-centralenantes.ec-nantes.fr/english-version/sports
Are you an elite basketball player?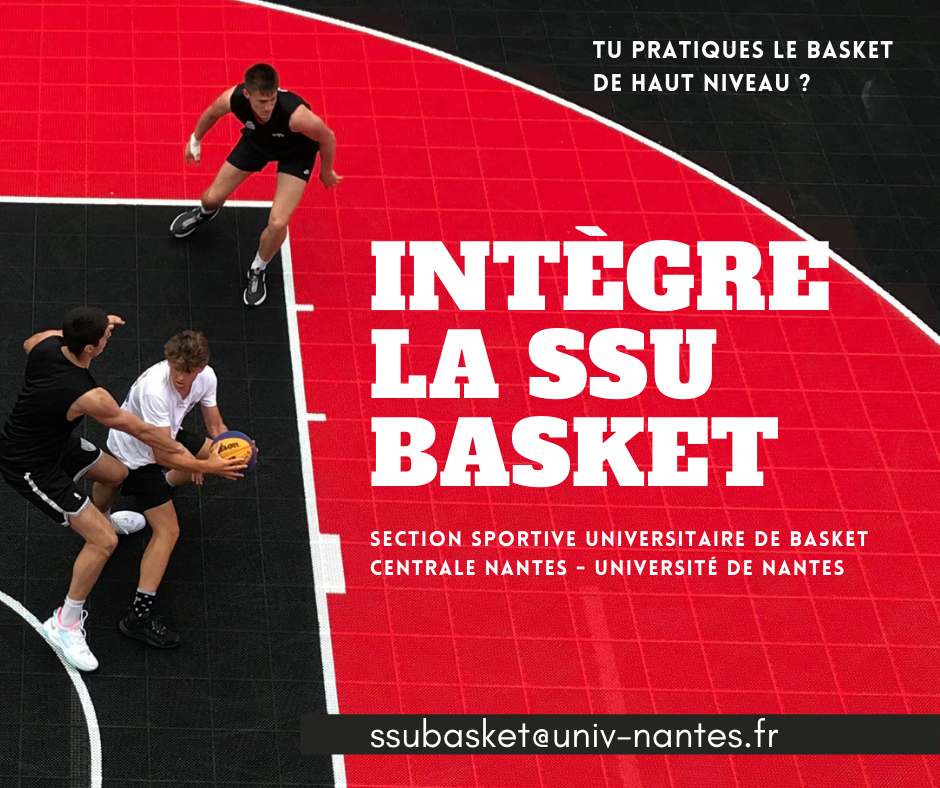 Centrale Nantes and the University of Nantes have signed an agreement to create a joint university basketball sports section.

Open to all Centrale Nantes and University of Nantes students wishing to pursue a joint sports and academic focus, the university basketball sports section offers special arrangements for students:
adjusted timetables that allow students to pursue their higher education and continue their sport;
adapted content for sports classes according to the student's sport;
academic tutoring;
preferential access to the sports facilities of both institutions.
Applications for 2021/2022 are now closed.
Published on January 24, 2019
Updated on September 7, 2022
LIVING IN NANTES

HEALTH & WELFARE

A YEAR AT CENTRALE NANTES