Student projects related to sustainable development
Published on November 16, 2022
–
Updated on January 4, 2023
Centrale Nantes students are involved in numerous projects in collaboration with companies throughout their studies.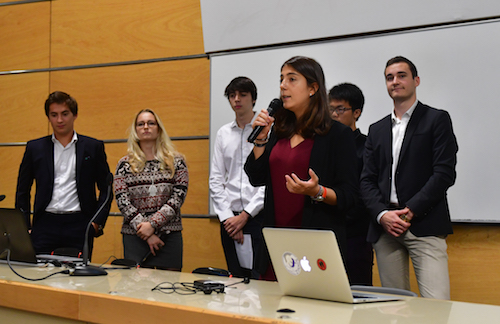 Study projects initiated by companies, associations, local authorities, etc.
Project-based learning is an important part of Centrale Nantes' curricula. Students are given problems to solve by companies or local authorities as part of P2E
student business projects
and
specialisation
,
master's
or
advanced master's
projects. Some specialisations or programmes focus on a theme more specifically related to sustainable development:
There are also one-year project-based specialisations such as
Low-tech Engineering
and
Smart positioning and sustainable mobility
A high proportion of P2E projects (65% in 2022/23) have a sustainable development theme
Here are a few examples of P2E projects entrusted to students:
A study on urban micro-climates and heat islands for Artelia
A prospective study of the conversion of public vehicle fleets to sustainable mobility solutions for Artelia
A study of the end of life of bicycles or recyclability with Decathlon or
A study of bottle cap recycling for Natz
Development of products such as a photovoltaic power supply for on-site equipment for 7smash, and for a low-tech dehydrating cooker for Identifaire
Study on bio-based materials in the building industry for EGIS
A carbon footprint study for Apala
A study on the production and consumption of meat in the Nantes area for Nantes Métropole
Feasibility study of an eco-solidarity activity or studies of a modular space for a person with a disability for an ESAT
The definition of actions to reduce emissions in SMEs for MissionChange
Do you have a project you would like to entrust to Centrale Nantes students?
Propose a P2E
student business project
or contact the
specialisation
,
master's
or
advanced master's
course supervisors.
Student associations involved in sustainable development through environmental, social or humanitarian projects
A number of clubs and associations on campus carry out actions in support of:
the environment
international solidarity
education for all
equal opportunities and inclusion
Civic engagement
Engineering programme students are required to undertake
100 hours of voluntary work
for associations of their choice in the fields of culture and leisure, environment, health, solidarity, education for all, emergency crisis intervention, remembrance and citizenship, sport, international development and humanitarian action.
Published on November 16, 2022
Updated on January 4, 2023