International Study Programmes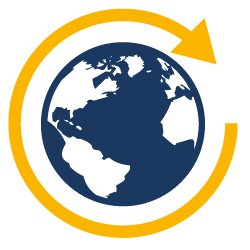 Around 43% of the student population at Centrale Nantes today are international students from 87 different nationalities.

Opportunities for international students at Centrale Nantes are available at undergraduate, graduate and post-graduate level and for students of our academic partners on an exchange or double degree programme or for a research internship:
Exchange Study Programme
International students selected by our partner institutions abroad have the opportunity to spend one semester or one year of their studies at Centrale Nantes. They usually join the final year of the engineering programme choosing both a specialisation and a professional option to obtain ECTS credits. A selection of Master courses are also proposed within this framework.
Double Degree Programme
International students selected by our partner institutions abroad to follow a double degree programme at Centrale Nantes during their studies spend two years here within the engineering programme. At Centrale Nantes they follow one year of the common-core engineering syllabus and one year of specialisation. At the end of the programme and provided that the requirements of both institutions have been satisfied, students graduate with the Centrale Nantes diplôme d'ingénieur - equivalent to a Master's Degree in Science and Engineering - in addition to the degree of their home institution.

Masters / Erasmus Mundus Joint Master Degree / PhD
Centrale Nantes offers of a wide variety of Master specialisms, which combine high-level theoretical training with valued professional skills. In addition, four Erasmus Mundus Joint Master Degrees, recognized for their quality and excellence by the European Union are on offer.

PhD opportunities are available across numerous disciplines at Centrale Nantes.
Undergraduate programme: Bachelor of Engineering
A four-year Bachelor of Engineering (BEng Hons) programme is offered with two specialisations: civil engineering and mechanical engineering.
Research Internship
Centrale Nantes also welcomes international students from our partner institutions within our research laboratories for 4- to 6-month research projects or internships. Interested students are advised to contact the head of the relevant
academic discipline dir
ectly.
Published on September 25, 2013
Updated on September 20, 2019