Innovation in Teaching at Centrale Nantes
The ICT department at Centrale Nantes supports the teaching staff in injecting innovation across the teaching programmes.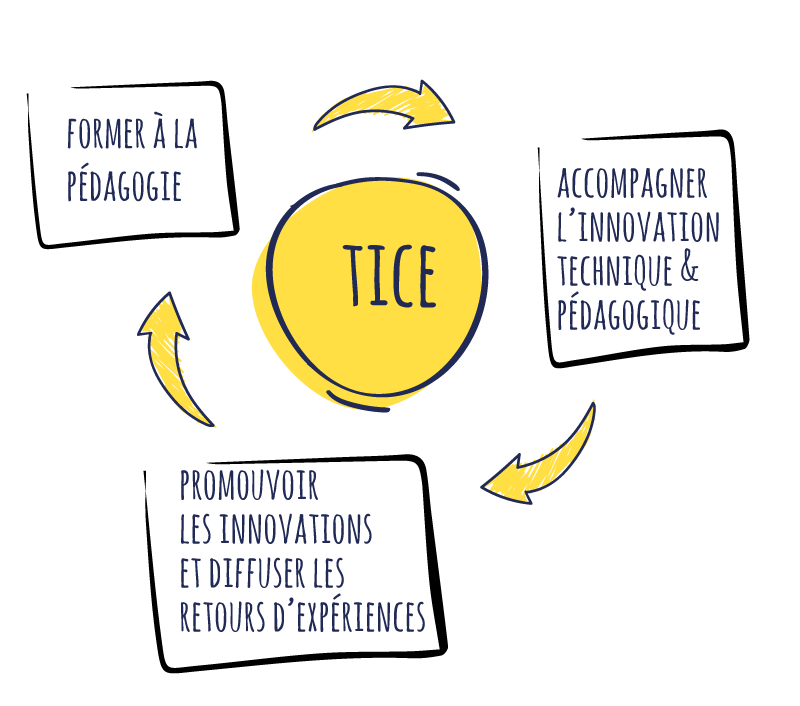 Train teachers
Support innovation in techniques and teaching
Promote innovation and present lessons learnt


Objectives
Provide teaching staff with technical and teaching support
Facilitate best practice exchanges, particularly via eCube seminars
Support the creation of digital content for interactive teaching
Develop teaching initiatives
Participate in the development of a digital campus
TRAINING AND SUPPORT
Supporting innovation in techniques and teaching
Monitoring of tools and practices
Evaluation of methods and lessons learnt
Learning scenarios
Teacher training for PhD students and new teachers blending classroom and distance learning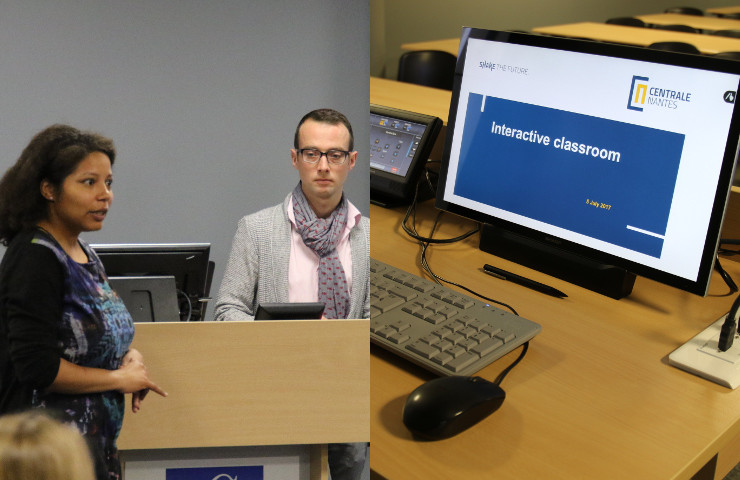 DEVELOP AND DISSEMINATE INNOVATIVE PRACTICES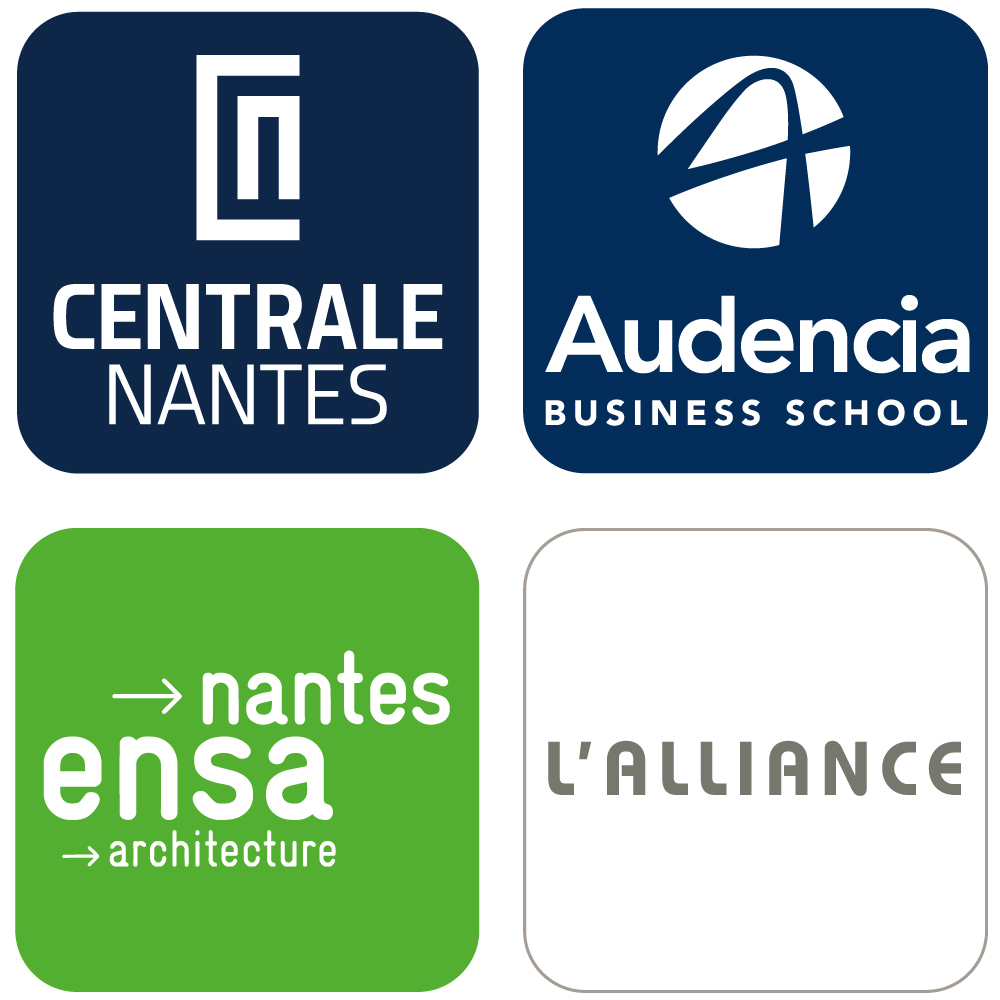 The teaching teams within the Centrale Nantes-Audencia-ensa Alliance work together to provide teachers with training and workshops on teaching innovation to enrich their practices on a daily basis via the a working group on teaching innovation (GRIP), eCube seminars: Teaching, Experiencing, Exchange (Centrale Nantes, Happy Learning (Audencia) and Educational Workshops (ENSA).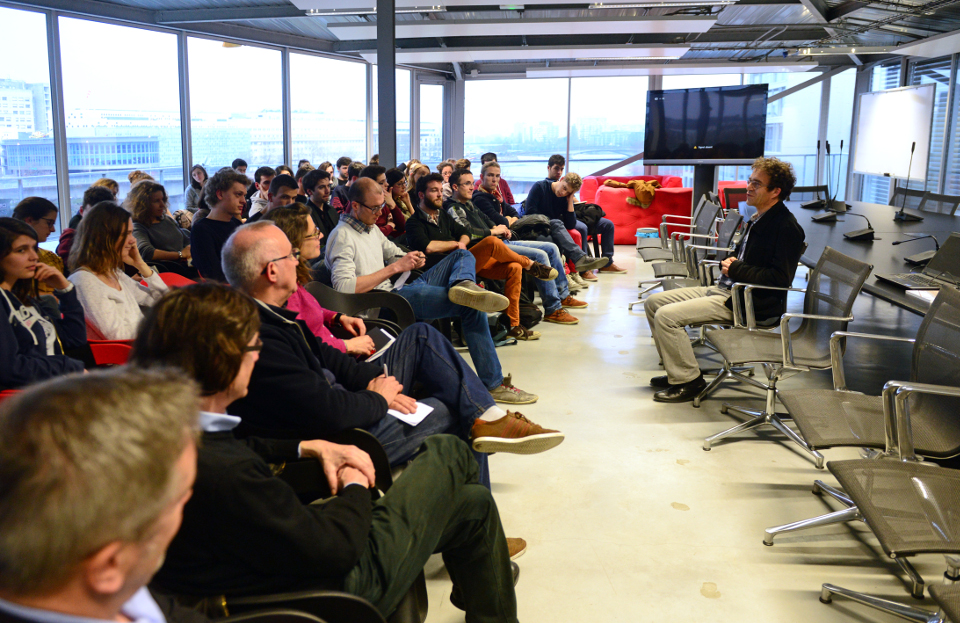 Teaching large groups with teaching advisor Jean-Loup Castaigne
eCube seminars: Lessons learnt to share best innovative practices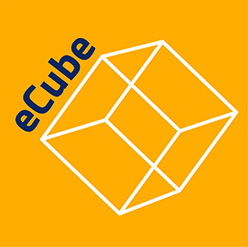 Neurosciences and teaching, benefits of video in teaching, BYOD (Bring Your Own Device) approach, Flipped Classroom, Active Learning, Interactive Whiteboard, Training for research with flipped seminars ... 3 years of lessons learnt with the teachers of the Alliance.
SOME OF THE ICT PROJECTS UNDERTAKEN AT CENTRALE NANTES
Flipped classroom - three year project
Skills-based approach - Objective: Appropriate and integrate the skills-based approach into our teaching as part of the work carried out by the Ecoles Centrale Group through workshops with teachers.
Choice of elective courses - Objective: help first year students choose their elective classes via access to presentation videos and feedback from second and third years.
Explore the options - Objective: Help students choose their courses, provide course information to eligible applicants, businesses and staff.
INTERACTIVE CLASSROOM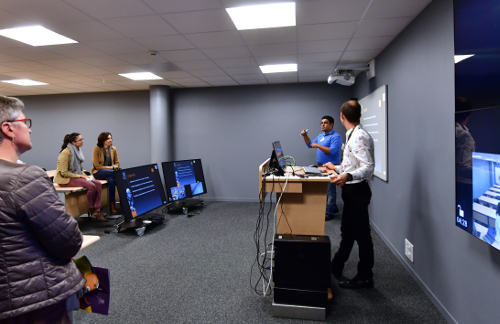 46 seats, 2 cameras and 12 microphones, built-in power sockets, whiteboard and projector, feedback screens
Means: HD video-conferencing, recording, interactive whiteboard, collaborative applications
For: interactive classes, distance/local learning, experts at a distance, video laboratory links, seminars etc.
Collaboration between establishments, accessibility, innovative teaching, teaching continuity
Published on March 9, 2017
Updated on November 17, 2022
Contacts
Head:
Morgan Magnin
ICT Engineers:
Gwenaëlle Le Mauff
Dominika Jankosikova (Dominika.Jankosikova

f0ff4c5a-0a7d-4225-a42e-328b45f3e410

@ec-nantes.fr)
Audiovisual:
Romain Plourde (Romain.Plourde

b7aa9007-adc5-4fe0-b824-a06b235ac1ba

@ec-nantes.fr)