Centrale Nantes Rankings
Times Higher Education World University Rankings 2021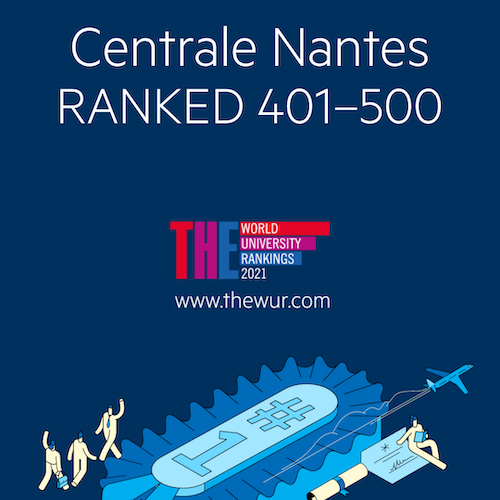 Centrale Nantes maintained its standing in the 401-500 grouping of the world's top universities in the prestigious Times Higher Education World University Rankings 2021.
Out of the 1527 institutions ranked worldwide by Times Higher Education, Centrale Nantes is positioned in the top 500 globally, 15th in France and in the top six French engineering schools.
To join this elite circle, five major performance indicators are used evaluate institutions: teaching, research, citations, industry income and international outlook. Centrale Nantes performs particularly well on two of the indicators:
Industry income: fourth French institution and 122nd globally
International outlook: fifth French institution and 149th globally
Times Higher Education World University Rankings by Subject 2021

Engineering and Technology
Out of only 1,098 establishments ranked worldwide for Engineering & Technology, Centrale Nantes confirms its standing in the
top 250 for 2021
. This ranking places the school in the top 70 in Europe,
the top 10 in France
and number one outside the capital.

Computer Science
Centrale Nantes is also ranked in the THE Computer Science ranking in 2021 in the
301-400
grouping of ​​the 827 best universities worldwide and in
11th place in France
.
Times Higher Education University Impact Rankings 2020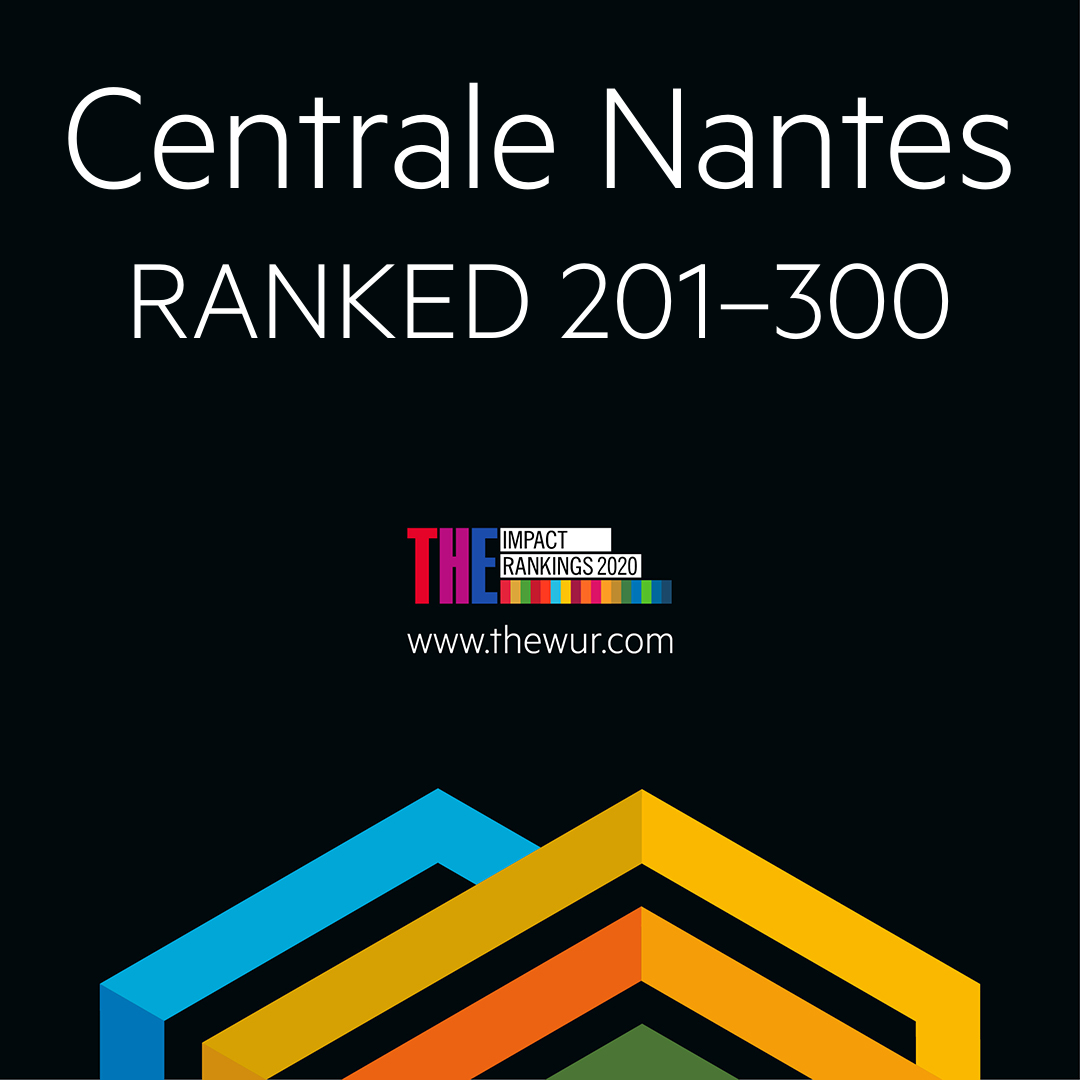 Centrale Nantes is ranked in the top 300 - and fifth France - of the world's best universities for social and economic impact
in the second edition of the THE University Impact Rankings.
The University Impact Rankings measure global universities' success in delivering the UN Sustainable Development Goals. Centrale Nantes performed particularly well on six of these goals:
Decent work and economic growth (39th)
Climate action (62nd)
Industry, innovation and infrastructure (top 200)
Affordable and clean energy (top 200)
Industry, innovations and infrastructure (top 200)
Reduced inequalities (top 200)
U-MultiRank 2020
Centrale Nantes in the top 25 global performing universities for student mobility since 2016
For the fifth year in a row, Centrale Nantes stands out in the U-Multirank 2020 ranking for international orientation and ranks 4th in the list of the 25 world's best performing institutions for student mobility (Global Top performer in student mobility).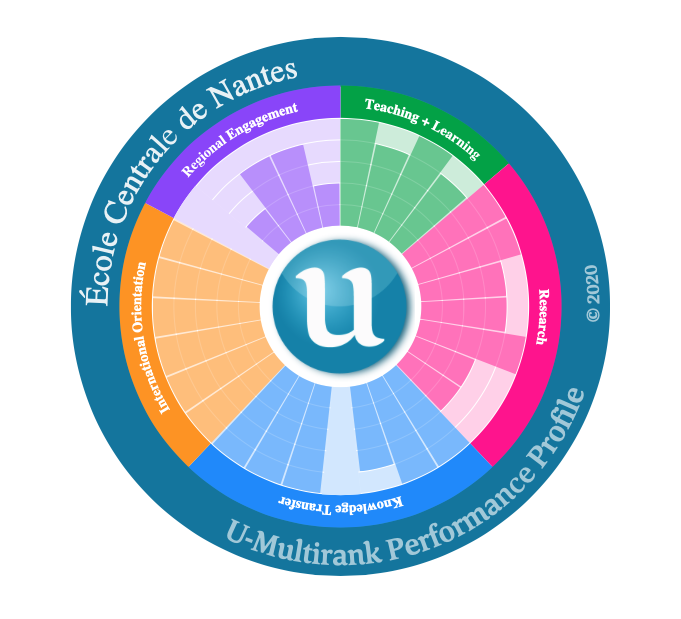 U-Multirank is the first world ranking for higher education establishments with performance assessed on an A to E scale according to a plethora of (29) indicators and five categories: teaching and learning, research, knowledge transfer, international orientation and regional engagement. The ranking includes more than 1759 higher education establishments worldwide,
including 52 in France.
Centrale Nantes scored particularly well on:
Centrale Nantes (with 16 A scores across 29 indicators) is one of four top performing institutions in France in the 2020 ranking
: Télécom Paris (18 A scores), IMT Atlantique (16 A scores) and Montpellier Sup Agro (16 A scores). Centrale Nantes stood out in three categories:
International orientation: Six As on six indicators
Knowledge transfer: Five As on seven indicators
Research: Three As on seven indicators
Times Higher Education Young University Rankings 2020
Centrale Nantes is one of the world's best universities aged 50 or younger, according to the criteria of the Times Higher Education Young Universities Rankings. The school is ranked 72nd out of 414 globally and 10th in France.
The ranking assesses research-intensive institutions across all their core missions: teaching, research, knowledge transfer and international outlook. It is based on the same performance indicators as the flagship ranking THE World University Rankings, but the weightings are adjusted to give less weight to reputation.

Centrale Nantes performed particularly well on international outlook and industry income.
L'Etudiant 2020
Centrale Nantes in joint 5th place in the

L'Etudiant

2020 rankings for French Engineering Schools
The Etudiant ranking for French engineering schools, which lists 167 establishments, measures over fifty indicators in four major areas of development: (1) academic excellence, (2) international openness (3) links with industry (4) diversity of backgrounds.
Shanghai Ranking 2019
Centrale Nantes joined the famous Shanghai Ranking in 2019, which has listed the world's best universities every year since 2003. The school features in the Global Ranking of Academic Subjects - Mechanical Engineering, in which it is ranked between the 201st and 300th place.
This global ranking assesses the performance of institutions based primarily on research and publications in specialized scientific journals as opposed to the quality of education. Six criteria are measured:
the number of Nobel Prizes and Fields medals awarded to alumni and researchers,
the number of the most cited researchers in their disciplines,
the number of articles published in Nature and in Science,
the number of articles in the Science Citation Index - Expanded and in the Social Sciences Citation Index,
academic performance in terms of the institution's size.
More than 1,200 universities are referenced each year with the top 500 published.
Published on November 14, 2016
Updated on December 16, 2020