Bachelor of Science in Engineering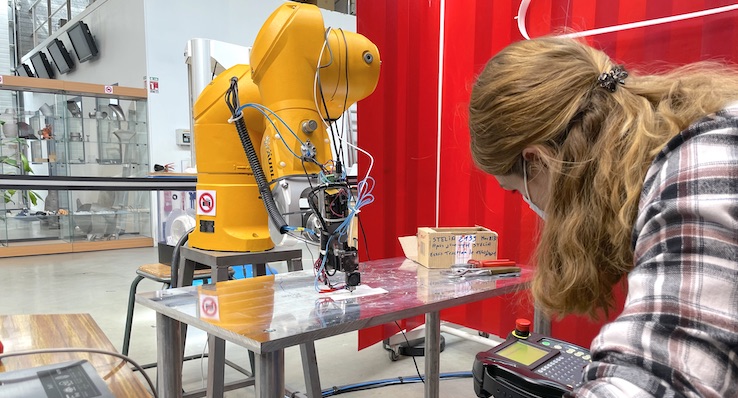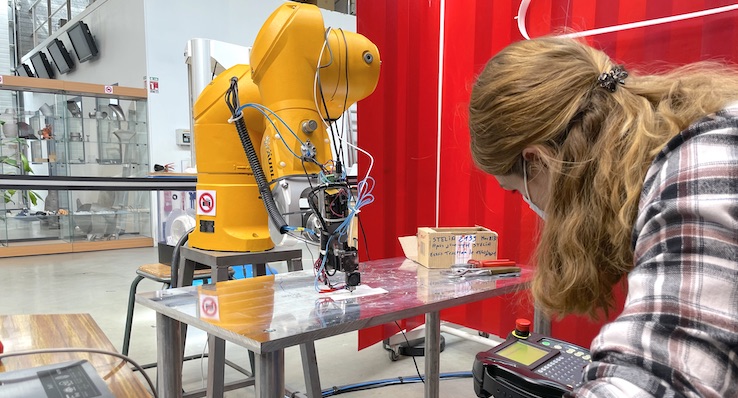 The Bachelor of Science in Engineering is a three-year programme with its first intake of students starting in September 2023
.
It is a high quality academic programme
offering its graduates the opportunity to pursue their studies on one of our Master's programmes or
alternatively to
join the workforce upon graduation.
Fully taught in English
, the programme will welcome
international students
from around the globe on our Nantes campus.
The programme is accredited by the CTI (Commission des Titres d'Ingénieurs), the independent body in charge of accrediting engineering degrees in France.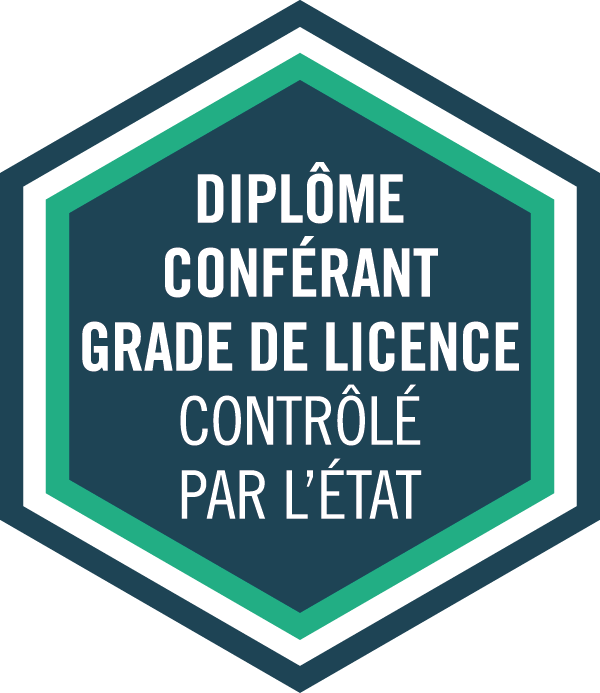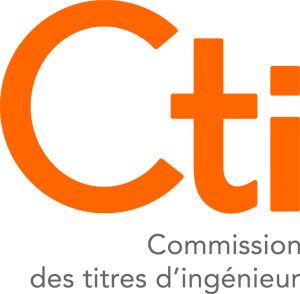 The BSc at a glance
A 3-year fully accredited bachelor's degree
Open to international applicants with a high school diploma in science or equivalent
Fully taught in English
Mixed cohort of international students
1800 face-to-face teaching hours
Location: Centrale Nantes campus, Nantes, France
First intake: September 2023
Overview

Choose your programme

The three-year programme comprises two years of core curriculum courses and a final year with a choice of four academic focus areas: Mechanical Engineering, Fluids and Energy, Civil Engineering or Signal Control and Robotics. Students can further customise their programme with the option of taking up a gap year or an exchange semester with one of our international partners.

Get hands-on industry exposure

In line with the school's values a third of the programme focuses on business sciences, social sciences and languages with a strong emphasis on developing professional and even entrepreneurial skills. Students will gain invaluable hands-on experience through two work placements - a six-week internship at the end of year 2 and a 16-week final year internship in a company or research lab - which can be undertaken in France or overseas. Coursework also includes regular contact with industry via industrial study projects and engineering projects. External speakers and industry experts play active role in the curriculum, particularly in the final year academic focus areas.

Study in English

The language of instruction is English. Whilst there is no prior requirement to speak or understand the French language for admission to the Bachelor programme, French language classes are provided throughout the three year programme. This gives students the means not only to get by in French in their daily lives, but also to fully benefit from internship opportunities in France. It is expected that students will obtain a B1/B2 level in French upon completion of the programme (B1 minimum required for graduation).

► Download the brochure

Course Content

Year 1

AUTUMN SEMESTER

ECTS
Hours
MATHEMATICS & COMPUTER SCIENCE
Analysis I
24
Linear Algebra I
24
Algorithmics
24
Intro. to Scientific Computing
24
12
96
PHYSICS AND ENGINEERING
CAD & Design
24
Statics
22
Introduction to Physics I: Optics
24
Matter & Materials
24
12
94
LANGUAGES & PROFESSIONAL SKILLS
French as a Foreign Language I
32
Business English I
16
Professional skills I
24
Pre-professional activities I
36
6
108

30 ECTS, 298 teaching hours

SPRING SEMESTER

ECTS
Hours
MATHEMATICS & COMPUTER SCIENCE
Analysis II
24
Linear Algebra II
24
Scientific Programming
24
Data structure management
24
12
96
PHYSICS AND ENGINEERING
Dynamics and Vibrations
22
Introduction to Physics II: Electromagnetism
22
Electrical Engineering basics
22
Product Design Methodology
24
CAD & Design – Reverse engineering
12
12
102
LANGUAGES, PROFESSIONAL SKILLS & SOCIETY
French as a Foreign Language II
32
Business English II
16
Professional skills II
24
Pre-professional activities II
36
Sustainable Engineering I
24
6
132

30 ECTS, 330 teaching hours

Year 2

AUTUMN SEMESTER

ECTS
HOURS
MATHEMATICS, NUMERICS & CONTROL
Analysis III
24
Probability & Statistics
24
Automatic Control
24
Industrial Automation Systems
24
12
96
MECHANICS AND ENERGY
Thermodynamics I
24
Vibrations
24
Structural Mechanics
24
Heat Transfer I
24
12
96
LANGUAGES & PROFESSIONAL SKILLS
French as a Foreign Language III
40
Business English III
20
Social Sciences III
24
Pre-professional activities III
36
Engineering Project I
24
6
144

30 ECTS, 336 teaching hours

SPRING SEMESTER

ECTS
HOURS
MATHEMATICS & COMPUTER SCIENCE
Numerical Analysis
24
Introduction to Data Science
24
4
48
PHYSICS AND ENGINEERING
Manufacturing
24
Industrial Engineering
24
Mechanics of Deformable Bodies
24
Fluid Mechanics
24
12
96
LANGUAGES, PROFESSIONAL SKILLS & SOCIETY
French as a Foreign Language IV
40
Business English IV
20
Social Sciences IV
24
Pre-professional activities IV
36
Sustainable Engineering II
24
Engineering Project II
36
9
180
INTERNSHIP
Non-skilled internship
5
-

30 ECTS, 324 teaching hours

Year 3

AUTUMN SEMESTER

ECTS
Hours
ACADEMIC FOCUS I
Courses according to choice of Academic Focus Area (ME, FE, CE, SIGCORO) see below*
12
96
ACADEMIC FOCUS II
Courses according to choice of Academic Focus Area (ME, FE, CE, SIGCORO) see below**
12
96
INDUSTRIAL PROJECT
Industrial Project I
24
2
24
LANGUAGES & PROFESSIONAL SKILLS
French as a Foreign Language V
32
Business English V
16
Social Sciences V
24
Pre-professional activities V
24
4
96


30 ECTS, 312 teaching hours

SPRING SEMESTER

ECTS
Hours
ACADEMIC FOCUS III
Courses according to choice of Academic Focus Area (ME, FE, CE, SIGCORO) see below***
15
132
INDUSTRY AND RESEARCH
Industrial Project II
24
Research Methodology and Practice
24
3
48
LANGUAGES
French as a Foreign Language VI
12
1
12
INTERNSHIP
Final internship
11
-

30 ECTS, 192 teaching hours


At the end of Year 2 students choose an academic focus area for their final year from four on offer: Mechanical Engineering, Fluids and Energy, Civil Engineering or Signal Control and Robotics. This choice determines their Academic Focus I, II and III courses in semesters 5 and 6 (324 teaching hours).


Mechanical Engineering (ME)

FOCUS I

Continuum Mechanics - Advanced | 24 hrs
Industrial engineering - Advanced | 24 hrs
Forming Processes | 24 hrs
Material Science | 36 hrs

FOCUS II

Finite Element Method I | 36 hrs
Project management | 24 hrs
Numerical methods for the analysis of experimental full field data | 24 hrs

FOCUS III

Material selection | 24 hrs
Finite Element Method II - Transient problems | 24 hrs
Manufacturing II - Industrialisation | 24 hrs
CAD & Design - Virtual reality | 12 hrs
Composite Structures | 24 hrs
Introduction to biomechanical engineering | 24 hrs

Fluids and Energy (FE)

FOCUS I

Thermodynamics II | 24 hrs
Fluid mechanics II | 24 hrs
Gas dynamics | 24 hrs
Incompressible aerodynamics | 24 hrs

FOCUS II

Introduction to turbomachinery | 24 hrs
Introduction to combustion | 24 hrs
Heat transfer II | 24 hrs
HVAC (Heating, Ventilation, and Air Conditioning) | 24 hrs

FOCUS III

Applied fluid mechanics | 24 hrs
Basics of CFD | 36 hrs
Wind engineering | 24 hrs
Renewable energies | 24 hrs
Basics of Ship design | 24 hrs

Civil Engineering (CE)

FOCUS I

Soil and Rock mechanics | 36 hrs
Mechanics of Civil Engineering Materials and Structures | 24 hrs
Structural Design | 24 hrs

FOCUS II

Building Physics | 24 hrs
Practical design / Applications | 48 hrs
Building Technology | 24 hrs

FOCUS III

Structural Dynamics | 24 hrs
Geotechnical Engineering and Natural Risks | 36 hrs
Modelling of Structures by FEM and BIM | 36 hrs
Complex Infrastructures | 36 hrs

Signal, Control and Robotics (SIGCORO)

FOCUS I

Computer Programming and Data Analysis | 24 hrs
Complex Analysis | 24 hrs
Electrical Engineering | 24 hrs
Robotics I | 24 hrs

FOCUS II

Signal Processing | 24 hrs
Feedback Control Systems | 36 hrs
Embedded Systems | 24 hrs

FOCUS III

Optimization | 24 hrs
Statistics | 24 hrs
Robotics II | 24 hrs
Image Processing | 24 hrs
Electronics | 24 hrs

Admission and Eligibility

How to apply for the BSc

Eligibility

Open to students preparing a high school diploma in science or equivalent, or having obtained this qualification within the last 12 months.
Applicants must be under 26 years of age on 1 January of the year of entry to the programme.

Selection criteria

Basic criteria

Academic results - based on a GPA conversion (60%). NB two-years of academic records must be provided and show courses in mathematics and/or sciences
Mathematics/science grades (20%)
Proficiency in English (20%) * with a minimum score of TOEFL: 78 / TOEIC: 800 / IELTS: 6.0

NB No proficiency requirements in the French language

* Applicants who carried out their studies in English (you must provide an official confirmation letter from your high school) are eligible without passing proficiency test, but providing the results of a recognized international test can add value to the application.
Students who completed their studies in the countries listed below are exempted from submitting a language certificate: Antigua and Barbuda, Australia, The Bahamas, Barbados, Belize, English-speaking Canada, Gambia, Ghana, Grenada, Guyana, Republic of Ireland, Jamaica, Kiribati, Liberia, Mauritius, Micronesia, New Zealand, Nigeria, Papua New Guinea, St. Kitts-Nevis, St. Lucia, St. Vincent, Sierra Leone, Solomon Islands, Trinidad and Tobago, United Kingdom, United States of America, Zambia or Zimbabwe.

Selection process

Applicants are selected based on their application form, and take account of the applicant's academic performance, his/her attitude and progress in class, his/her motivation, the relevance of his/her career plans, extra-curricular activities, and his/her level of proficiency in English.

Application procedure

Applications open on 31 October 2022
Applications close on 26 May 2023
Apply online: https://ecandidat.ec-nantes.fr
Contact: bachelor.admission95a7b7bb-73dc-46c4-87ca-d0c86dc83619@ec-nantes.fr

You will need to submit the following documents as part of your application:

Curriculum Vitae and cover letter in English
A certified copy in English or French of your secondary school diploma; or failing that, the current year's enrolment certificate for the final year of high school studies and academic transcripts
Copy of an identity document (e.g. passport)
English test score (TOEFL, TOEIC, IELTS). NB Not required for native speakers of English.

Selected applicants will be invited for an interview via videoconference.

The purpose of the interview is to confirm information provided in the application and to assess:

Motivation to follow the programme;
Extra-curricular activities;
Intellectual curiosity;
Potential and ability to adapt to a new environment;
Language proficiency in English.

Tuition Fees and Financing

Tuition Fees

€12,000 per annum. Tuition fees are guaranteed for the duration of the programme.
Early Bird: a reduction of €1,500 for the first year of study is granted to international students who make their first tuition payment within one month of being offered a place on the programme.


Scholarship opportunities

Elite Scholarships may be awarded based on scientific excellence criteria. The award is for the duration of the 3-year programme (provided that the student does not repeat a year) for a maximum annual amount of €6000.
Opportunities within the framework of certain international agreements, may be available for periods of international mobility within the programme.

Sustainable Development Goals

Contribution to sustainable development goals

► Learn more about Centrale Nantes' commitment to the 17 sustainable development goals

Why choose the BSc?

Mechanical Engineering
Fluids and Energy
Civil Engineering
Signal Control and Robotics

Top 200 for Engineering in The Times Higher Education World University Rankings by Subject 2023 (3rd school in France)
87th in the world for Mechanical Engineering in the QS World University Rankings by Subject 2023

Language of instruction - 100% English
Learn French - language classes provided throughout the three years.
43% international students and 87 nationalities on campus

Hands-on experience through two work placements
Regular contact with industry via industrial and engineering projects.
Industry experts play an active role in the curriculum

Pursue your studies with an international master's programme in France or elsewhere.
Centrale Nantes offers 6 Master of Science (MSc) programmes, all of which are fully accredited by the French Ministry of Higher Education and Research.

After the BSc

Pursue your studies

Graduates of the BSc in Engineering can pursue their studies with an international master's programme in France or elsewhere. They are ideally placed to continue their studies at Centrale Nantes on one of our

6 Master of Science (MSc) Programmes

, all of which are fully accredited by the French Ministry of Higher Education, Research and Innovation. These programmes are taught in English with a choice of 14 different specialisms. Centrale Nantes is also involved in five

Erasmus Mundus Joint Master Degrees

and three

Joint Master's Programmes

.

With a choice of four academic focus areas in year 3, students are prepared more specifically for the challenges of the following Master of Science programmes:



Career Prospects

Students benefit from individual careers guidance from the Student Life Team at Centrale Nantes. Face-to-face or online careers sessions, mentoring sessions with graduates, webinars, online forums, etc. help future graduates to find their path.

The Bachelor of Science in Engineering prepares its students for direct entry into the workforce. Excellent careers prospects await graduates in startups, SMEs, mid-sizes and large groups alike across varied sectors of activity:

Transport - automotive, aeronautical, naval and railway
Building, public works and sustainable construction
Energy, water and environment
Food and beverage industries
Health, biomedical
Robotics and telecommunications
Defence
Maritime industry (offshore, MRE)

Examples of job opportunities:

Works coordinator: The works coordinator is a supervisor on the building sites. Throughout a project, he or she is responsible for ensuring that the work is carried out properly by all the external service providers selected. The works supervisor ensures good contact and communication between all the service providers in the field, and coordinates the tasks under the authority of the works manager. Their daily work consists of managing the technical resources required for the construction of a project, as well as the human and financial resources needed to ensure that the project runs smoothly.
Structural draughtsman: The job of structural draughtsman consists in making a project imagined by an architect a reality by adding calculations made by the design engineers. He/she draws up the various plans and diagrams of the future structure. It is up to him/her to choose the most appropriate scale and not to leave out any detail in the representation of the various structures. He/she is also a mediator between the designers of the project and those who carry it out, when sometimes the design proves to be impossible as it stands, and requires certain modifications.
R&D technician: The R&D technician participates in the various development phases of a research and/or development project (carrying out tests, measurements and analyses, making 3D projections, first-level maintenance of laboratory equipment).
Technician / Methods manager: The main objective of the methods manager is to optimise production by allocating the necessary resources (equipment, methods, human resources, etc.). The methods manager validates and improves the manufacturing process.
Robotics integrator: The robotics integrator studies, integrates and develops robotic solutions for existing processes or those under development.
Operational manager of an energy production site
Assistant CFD calculation engineer in a design office or research laboratory
Assistant design engineer for energy systems

What our graduates say





Emilie, Bachelor of Engineering Graduate, Class of 2022

Why did you choose Centrale Nantes?
"I chose Centrale Nantes as it is considered as one of the top engineering schools in France. Also, it is a general course giving an insight in different fields such as mechanical, electrical and industrial engineering. Centrale Nantes lends a lot of importance to internships, and a strong emphasis is also given to language courses, sports activities, entrepreneurial courses, finance courses, environmental and sustainable engineering and engineering projects."

What did you enjoy the most about the course?
"I enjoyed learning from the different professors who were all unique in their ways of teaching. Studying in France was definitely the most challenging and enjoyable experience."

What about student life on campus?
"There are different associations and sports activities that you can join."

What are you doing now and what are your plans for the future?
"I am working as a Technical Support Engineer in Mauritius. Doing my master is definitely one of my future goals."

How would you describe Centrale Nantes in 3 words?
"Challenging - Knowledge - Success"

Julian, Bachelor of Engineering Graduate, Class of 2022

Why did you choose Centrale Nantes?

"As one of the top French universities, Centrale Nantes offers a core learning framework that shapes students into the great leaders of tomorrow. This, in addition to the solid engineering coursework, multicultural experience, and highly qualified professors convinced me to choose ECN for architecting my career goals."

What did you enjoy the most about the course?
"What I enjoyed the most about the course is that it gave me an opportunity to experience both theoretical and industrial knowledge from as early as the first year. I had a couple of long internships with different companies in the civil engineering and construction sector that gave me hands-on experience and really helped jump-start my career."

What about student life on campus?
"Life on campus was undoubtedly the best, characterized by the comfort, security, convenience, community, and diversity of the people around. I met friends from different parts of the world who have definitely made me have a multicultural perception. We shared a bunch of experiences from food, music, language, sports & games, and career plans. It was simply amazing and enriching."

What are you doing now?
"Currently, I am working for MSALABS - a global provider of a full range of geochemical laboratory services, as a senior project engineer. I have been in charge of developing, designing, and managing several construction projects in Africa, the Middle East, and Canada."

What are your plans for the future?
"My future goal is to pursue a postgraduate degree in Civil engineering, particularly in the field of materials and structures at Centrale Nantes. I believe this will provide greater avenues in my professional growth."

Centrale Nantes in 3 words?
"Excellent, Dynamic, Life-changing"




Focus on unique resources

Centrale-Audencia-ensa incubator

The Centrale-Audencia-Ensa incubator is an entrepreneurship support programme which aims to boost the creation of innovative companies in the Pays de la Loire region. The incubator is open to students and graduates of the three establishments of the Centrale - Audenica - ensa Nantes Alliance with a mature project (solution, market, team) to develop.

The unique collaboration between three nationally and internationally recognised educational and research establishments, in the fields of engineering, management, communication, design and architecture, provides exceptional conditions for the development of incubated projects. The Centrale-Audencia-Ensa incubator is fully in tune with the dynamics of the Nantes and Loire region thanks to its strong involvement in a particularly innovative and entrepreneurial ecosystem.


Hydrodynamic and Ocean Engineering Tank


Amongst the largest in Europe, Centrale Nantes' ocean test facilities include a towing tank, a hydrodynamic and ocean engineering tank, a shallow water tank and a recirculating canal. The ocean engineering tank measures 50m long by 30m wide by 5m deep and is equipped with a segmented wave maker. It is used, for example, to study deep water offshore systems, seakeeping trials for ships, study of the performance of wave power systems and floating wind turbines.


Engine Test Benches


These test facilities allow experimental characterization and numerical modeling of complex energy systems. This research is accompanied by a societal challenge: reducing the consumption of fossil fuels and polluting emissions.


Sustainability and Green Building Platform


This platform provides researchers and companies with exceptional experimental and digital resources.

In order to meet the challenges of environmental civil engineering, the platform brings together simulation tools adapted for design and management of the lifecycle of structures.


Composite Materials and Processes Platform

This experimental equipment makes it possible to produce organic composites and to characterize materials in physical terms. The platform provides the right conditions for the world-class research activity conducted in the field of mechanics of materials and processes.


Campus facilities

Centrale Nantes houses 17 buildings on a 40-acre green campus. In addition to the standard facilities of a university campus (classrooms, media library, computer rooms, etc.), it is home to

13 research platforms

, some of which are unique in France, and modern and varied sports facilities, the Centrale-Audencia-Ensa incubator and vibrant student life. Facilities on the Centrale Nantes campus:

45 classrooms
6 lecture theatres
13 computer rooms (with nearly 180 fully equipped PCs and extended opening hours)
1 media library
5 research institutes
Sports and cultural facilities: 1 gymnasium, 1 multisport/dojo hall, squash courts, 1 piano room
1 student house

Student residence - our incoming international bachelor-level students have priority access to the Max Schmitt halls of residence on campus
1 online platform for students, Onboard, with timetables, grades, attendance management, distance learning and teaching resources,
1 Moodle platform (Hippocampus) with collaborative functionality available to faculty and students (additional resources, working groups, forum, online assessments, etc.).
Students also have access to meeting rooms / learning innovation / videoboxes equipped with video projectors, cameras, interactive whiteboards, etc., for their classes, presentation preparation, project work, etc.
1 lifelong email address and an individual digital workspace and storage space, with remote 24H access.


Virtual Tour

Explore the campus with its classrooms, research platforms, student life and sports activities: Take the virtual tour
Published on May 13, 2022
Updated on August 3, 2023
Contact
bachelor.admission2b739dee-af73-4067-9325-0716891222aa@ec-nantes.fr

Course Supervisor
Grégory Legrain
News and Events
We regularly attend education fairs around the world to meet with prospective students and provide information about our study programmes.
► Stay tuned for upcoming events
Brochure