Sustainable development

,

Study Programme

,

SDG12

,

SDG4

,

SDG9

,
1st Low-Tech Forum at Centrale Nantes: a one-day event to showcase Nantes' low-tech ecosystem
The 1st Low-Tech Forum will be held on Tuesday 21 March 2023, at Centrale Nantes, bringing together local players, students, teachers from Nantes and regional institutions, and companies interested in the concept.
On March 21, 2023 All day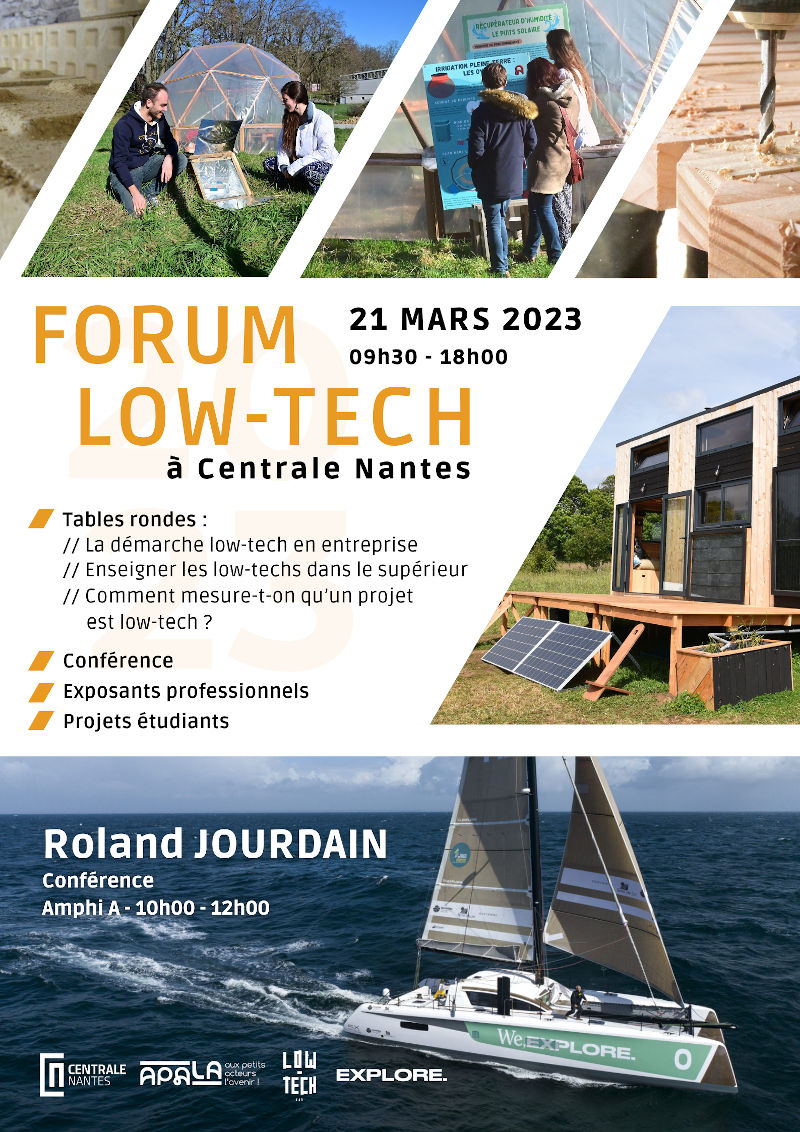 Participants from around the region will attend the event to showcase the Nantes low-tech ecosystem and the projects carried out by the students following the new Low Tech engineering programme specialisation opened in 2022 in partnership with EXPLORE and APALA, the Nantes low-tech incubator.

► Register to attend the forum

From 9 am - Coffee
9.30 - Introduction
Conferences
10 am - 12 pm - Lecture theatre A
Stands and demonstrations - throughout the day - Hall A
Presentations of students' projects and local actors
Low-tech training: an engineer against the tide?
Low-tech, heading towards a desirable future
Demonstrations: wind turbine, raw earth construction, low-tech dome etc
1.30 - 6.00 pm - Round tables
From 1.30 pm - The pit Hall A
The Low-Tech approach in companies
Round table discussion moderated by Quentin Tizon, ADEME engineer, low-tech expert

Teaching low-tech in higher education
Guillaume Lefevre, Director of Icam Nantes
Jean-Marc Benguigui, Course supervisor of the Low Tech specialisation and Engineering for Ecological Transition option.
Delphine Toquet, Professor, Sciences Humaines pour l'Ingénieur, Ecole Nationale d'Ingénieurs de Brest (ENIB)
Student from the Low Tech specialisation (t.b.c)
Round table discussion moderated by Cécile Le Sausse of Explore

How do you determine if a project is low-tech?
Jonathan Gueguen, Low-Tech project manager at APALA
Jean-Baptiste Thony, alumni and Low-Tech expert, Bordeaux city councillor in charge of circular economy, zero waste and local currency
Anne-Charlotte Bonjean, expert engineer in repairability at ADEME
Didier Ménard, engineer, Atelier Belenos
Round table discussion moderated Estelle Massi, Centrale Nantes student (t.b.c)

Event organised in partnership with APALA and EXPLORE



Published on January 24, 2023
Updated on March 14, 2023