Centrale Nantes is proud to be a partner of the low-tech festival: beyond the concept
The low-tech festival - organised by the APALA association (Aux Petits Acteurs L'Avenir) - will be held from 22 to 25 June at Halle 6 West in Nantes.
From June 22, 2023 to June 25, 2023 All day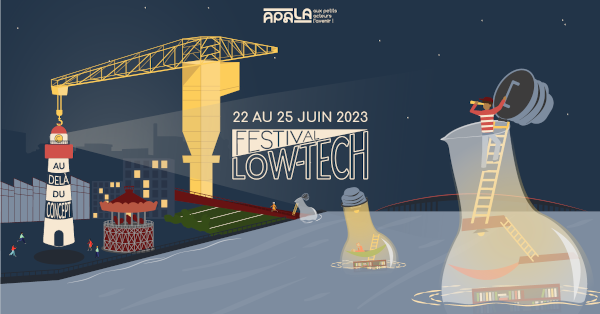 The festival is designed to explore new perspectives for a sustainable future.
A low-tech festival in the heart of Nantes
The 4-day programme includes conferences, debates, workshops and a trade village to move beyond the concept together.
A scientific approach combined with a critical mindset are given pride of place in order to broach the low-tech approach with links to research, teaching, the economy, ethics, the environment, etc.
A packed programme of 30 conferences to decompartmentalise the approach and open it up to new perspectives.
A trade village will highlight the emerging ecosystem committed to ecological and social transition.
Numerous workshops will be on offer to experience the world of low-tech in a concrete way, through friendly and participative formats.
The following speakers will be present to give their analysis, and share their experience: Arthur Keller, Marine Miller, Yves Cochet, Lucie Wiart, Ferghane Azihari, Morgane Guillet, Antoine Bueno, Axelle Playoust-Braure, Julien Malara.
►
Register now to secure your place
(event in French)
APALA

APALA
(Aux Petits Acteurs L'Avenir) is a non-profit environmentalist association created in 2013 in Nantes, which brings technical solutions to the sustainability issues of our lifestyles through a scientific approach and a low-tech approach.
Known at Centrale Nantes for having contributed to the setting up of the
low-tech engineering
project-based specialisation, it also works alongside numerous student groups in the framework of P2E or specialisation projects.
As part of a culture of innovation under constraint, the association considers technology in terms of its environmental, social and economic aspects. Defining itself as an intermediary in the transition to a sustainable world, APALA popularises and raises awareness to disseminate scientific knowledge.
Published on May 9, 2023
Updated on May 9, 2023