The "Centralien" skills framework
Founded in 1990, the Ecoles Centrale Group brings together CentraleSupélec, Centrale Lyon, Centrale Lille, Centrale Nantes and Centrale Marseille. Close cooperation between the five schools guarantees, alongside the joint competitive entrance examination, a coherent educational model, a coordinated international strategy and inter-school mobility.

The Ecoles Centrale Group shares a joint educational approach: five skills as a foundation for building a core scientific culture.

The five "Centralien" skills
Designed to reflect our commitment to responsible development, this skills framework is applied throughout the engineering programme curriculum, and follows a trajectory within which different levels of progression are defined. From the first year onwards, the acquisition of Centralien skills can be highlighted on the CV, LinkedIn profile, etc.

An assessed skill calls for knowledge, know-how and interpersonal skills in a situation that is more or less similar to the reality of the professional world, depending on the level of requirement for the achievement of the skill.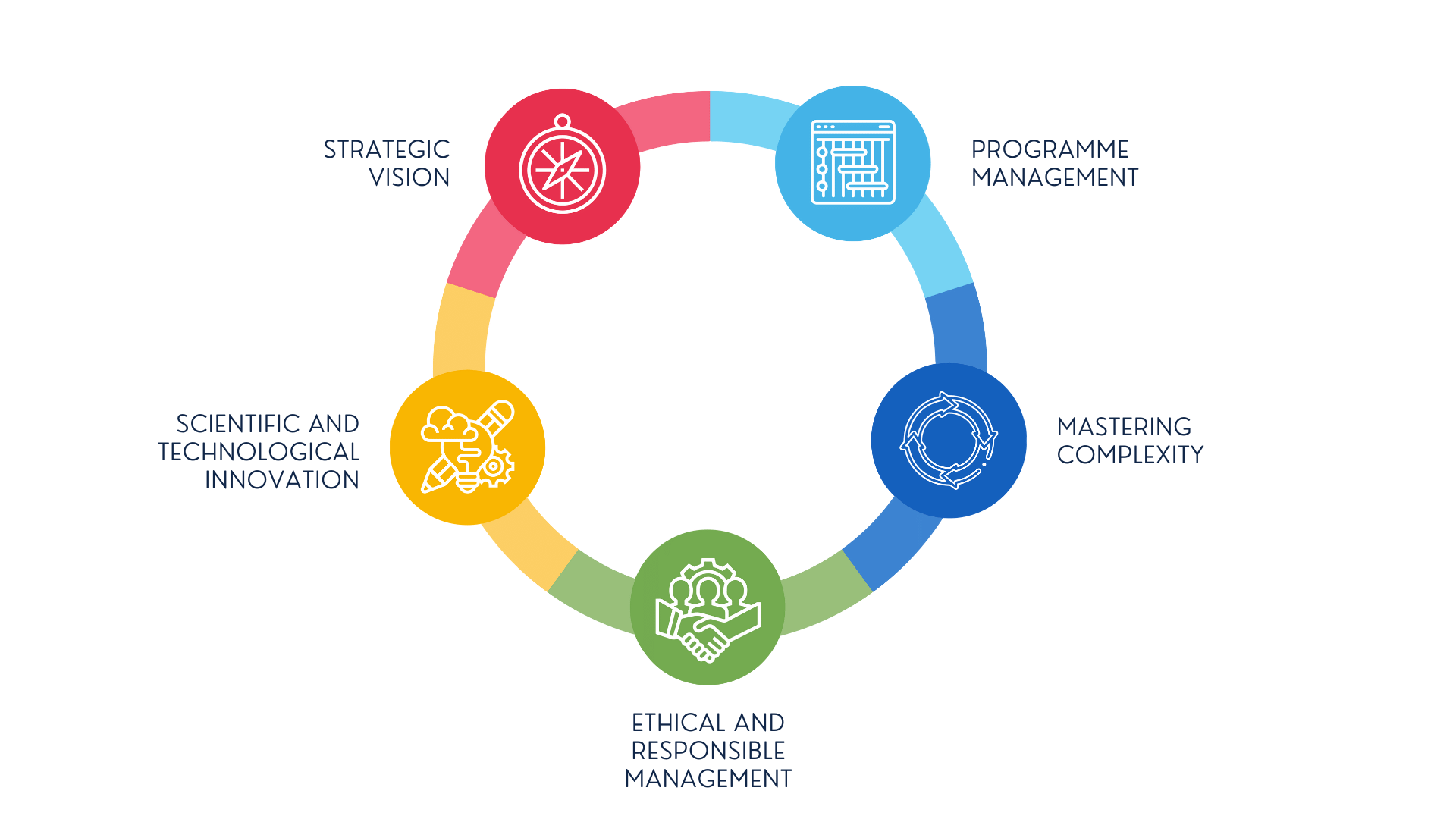 The level required at the end of the curriculum is the same across all the Ecoles Centrale, each competence in the skills framework has three measurable components.
Scientific and technological innovation

Through a structured and global needs-based approach, Centrale engineers develop new products or services. To draw on a broad base of scientific and technical knowledge, but also on skills in innovation and business creation. They are able to exploit the results of scientific research, which may even be their own. Whether acting as an intrapreneur, entrepreneur or researcher, Centraliens create value at all stages of product development.

Components: Develop - Dare - Deliver and create value

Mastering complexity

Centralien engineers understand, analyse and solve complex problems using a global approach that addresses the strong interactions between disciplines, professions and human factors. They are trained in an integrative manner in fundamental sciences, engineering sciences, as well as economics, humanities and social sciences, and thus develop a systemic vision. Without any marked specialisation, but having developed strong adaptability, they evolve in different environments and are mobile both in terms of sector and function. They fully understand the issues at stake, assimilate the risks, accurately interpret the situation, and implement the right solutions with conviction and in a reasoned manner.

Components: Represent and model - Solve and arbitrate - Think and act in an unpredictable and uncertain environments

Programme management

Centralien engineers are able to develop and manage programmes from beginning to end, from initial design to implementation, incorporating all the necessary phases. Drawing on both their technical expertise and their knowledge of the company's needs, Centralien engineers manage all aspects of a programme, whether they be scientific, technical, economic, financial or human. They are able to deliver results, adapt to changing environments and minimise risk.

Components: Design a project/programme - Manage/lead - Finalise and leverage feedback

Ethical and responsible management

Centralien engineers are able to design, operate and develop management systems, taking account of all aspects, be they technical, human, business or cultural. They are committed to optimising performance and results, with an ethical and responsible approach (respect for individuals and the common good, critical thinking and humility), in order to make a positive impact through their actions and management.

Components: Build self-awareness, self-development - Promote individual and team performance - Lead transformation in one's organisation

Strategic vision

In order to consistently give meaning to their own actions and the actions of those around them, Centralien engineers work with others to build a shared vision, which is expressed through strategy formulation. Through this constant drive to give meaning, via vision and strategy, they safeguard the sustainability and development of the organisations in which they work.

Components: Anticipate and commit - Give meaning - Develop and sustain
Published on August 18, 2022
Updated on September 15, 2022