Brand identity
2017: Centrale Nantes embraces a new visual identity in line with its vision and ambition
98 years after its founding by the city of Nantes to support French industrial development in the "lower Loire" region, Centrale Nantes is a leading engineering school. Its high quality fundamental research, the strength of its economic ecosystem, its capacity to mobilize, interact and collaborate all convey the school with exceptional international attractiveness.

A world-class, effective, readable, recognizable and unambiguous sign.
Modern, sober, elegant and refined, the new logo is built on the interweaving of the initials of Centrale Nantes. It opens a door to the future and asserts the school's dynamic trajectory. Inspired by a formal geometric and scientific language, the new logo represents the scientific excellence of the school. This abstract sign breaks away from the representation of the seahorse - now devolved to students and alumni - a historical symbol of the school evoking its excellence in ocean engineering. The new logo is designed to represent the whole school offer across training and research which is structured around three fundamental pillars: energy transition, manufacturing, and healthcare.
2022: Centrale Nantes updates its brand signature

Globalization, energy transition and the expansion of digital technology are paving the way for a far-reaching transformation of society in which science and technology play a driving role. This transformation conveys a central role and new responsibilities for engineering students and young graduates. They must not only demonstrate creativity and ingenuity, but also adopt a new posture in their chosen profession. Tomorrow's engineers, standing at the intersection between societal and technological issues, and capable of integrating other disciplines, will adopt a new posture to engage and federate around tailored solutions.
With "Shake the future", Centrale Nantes brought forth innovative solutions, and with "Reinvent engineering", Centrale Nantes is training ethical engineers, masters and PhD graduates, to contribute effectively to the energy transition that the world needs.
Colors of the logo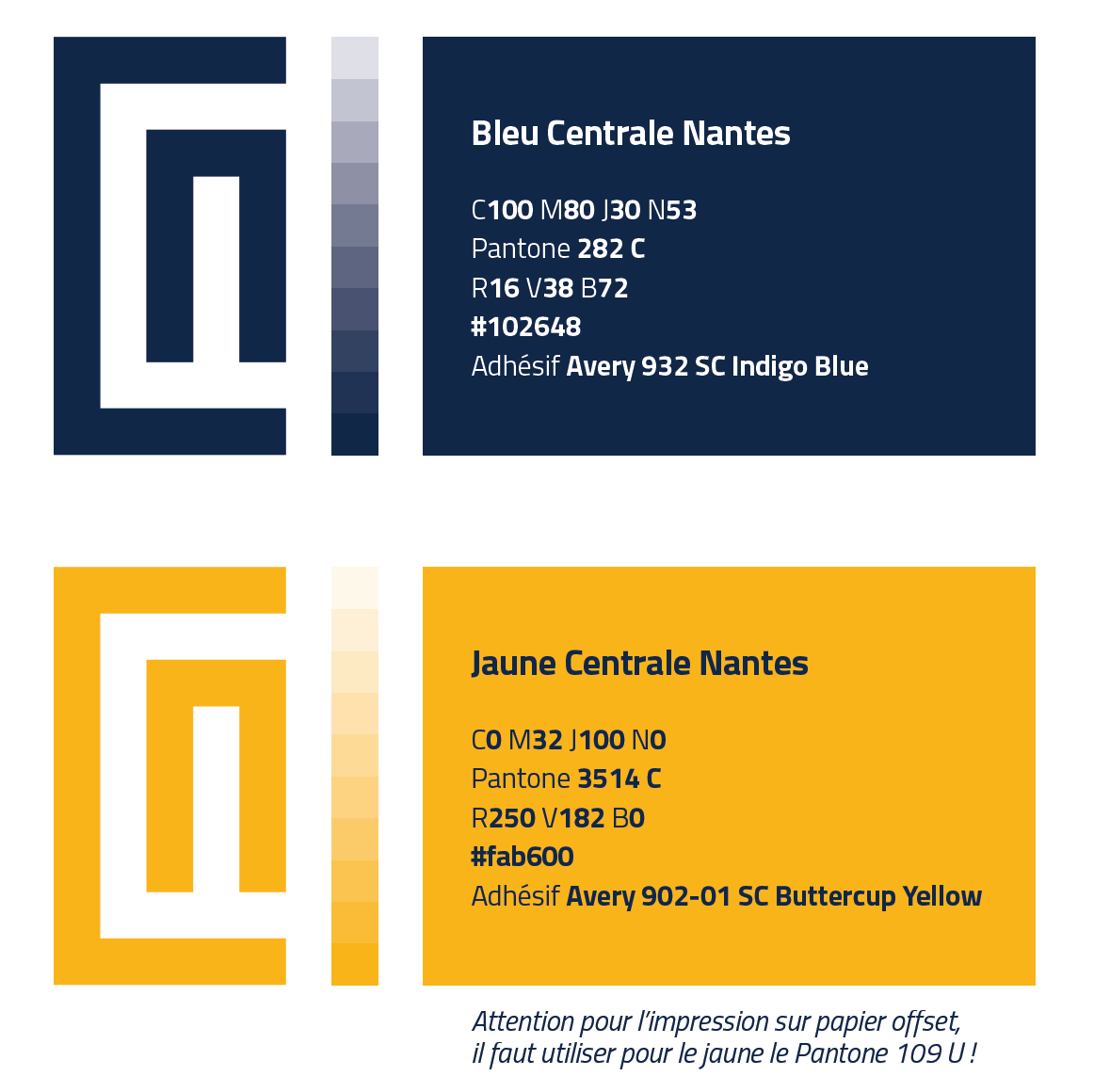 RAL :
Logo Centrale Nantes G.jpg
Logo Centrale Nantes G.png
Logo Centrale Nantes G.ai
Logo Centrale Nantes G.pdf

Logo Centrale Nantes Noir.jpg
Logo Centrale Nantes Noir.png
Logo Centrale Nantes Noir.ai
Logo Centrale Nantes Noir.pdf

Logo Centrale Nantes Quadri.jpg
Logo Centrale Nantes Quadri.png
Logo Centrale Nantes Quadri.ai
Logo Centrale Nantes Quadri.pdf
Logo Centrale Nantes RVB.jpg
Logo Centrale Nantes RVB.png
Logo Centrale Nantes RVB.ai
Logo Centrale Nantes blanc.png
Logo Centrale Nantes blanc.ai
(to use on dark backgrounds)
Corporate identity guidelines - Centrale Nantes 2017
Published on March 27, 2017
Updated on May 2, 2022