Students Association (BDE)

BDE.png
The "student association" has many different functions. It is at the heart of the school's associative activities and student life in general.
Contact details :

AECN - Ecole Centrale de Nantes BP 92101 F-44321 Nantes Cedex 3

Website :

Email. :
Activities
So what is the BDE (Bureau Des Eleves) ? It is the body that handles most of the associative life at Centrale. It's a group of more or less thirty people that were elected after two weeks of intense campaigning! It collaborates with the Bureau Des Arts and the Bureau Des Sports.
The BDE is your representative vis a vis other schools, teachers, alumni, companies and the administration. As an engineering student it acts as your major spokesperson.
Throughout the year the BDE will animate your social events and accompany you as you discover the campus, clubs and activities on offer at Centrale.
The BDE handles about forty different clubs all actively contributing to Centrale's dynamism. Music, astronomy or board game clubs... You'll be sure to find one that suits you, and if not you're free to create one! Some clubs also organise specific events like the Integration Week End, ski week, the cruise, the NEMO…
To be part of the AECN (Association des Eleves de l'Ecole Centrale de Nantes) and thus be able to participate in the associative life a small membership fee is charged.
Executive members
Board members:
Vice-Presidents: Amine Mehmouden & Mathieu Robazza
Treasurer: Vincent Maillou
Secretary: Charlotte Beaune
Office hours
Mon - Wed: 9.45-10.15 / 12.15-1.45 / 3.45-4.00 / 6.00-6.30
Thu - Fri: 9.45-10.15 / 12.15-1.45
Additional Information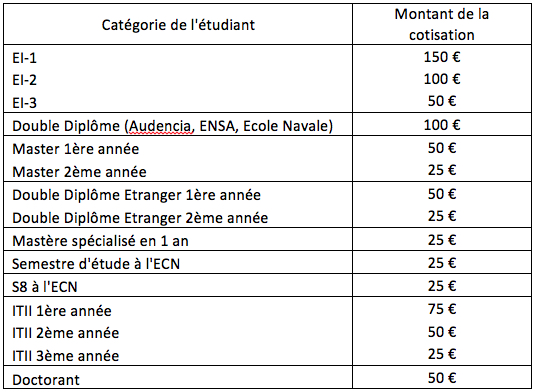 The Association represents the students in dealings with other schools, teaching staff, alumni, industry and administration.
Published on August 28, 2003
Updated on May 6, 2019