1st edition of the iD festival: rethinking gender
The iD (Identités Diversités) festival is jointly organised by the BDE, Centr'elles and Stonewall, alongside the CLAC association at Nantes School of Architecture.
From October 4, 2021 to October 9, 2021 All day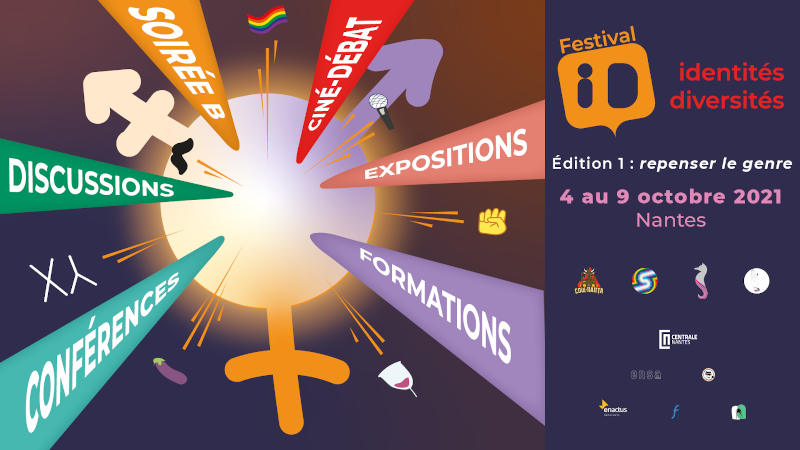 The first edition will focus on the theme of gender: gender (non) binary, discrimination, social constructs, biology, prescribed behaviours, inclusiveness in the workplace... will be among the topics covered during this festival, from 4 to 9 October.
This festival week offers everyone the opportunity to initiate or develop their thinking on their relationship to gender through a multitude of activities:
fun events and activities
awareness-raising activities
conferences and round tables
The festival will open on Monday 4 October with an unveiling of an
exhibition by Madeleine Roy
, a photographer who explores the limits of gender, in hall A at 6pm, followed by an inaugural conference with the presence of
Femmes Ingénieures
at 7pm in Lecture theatre A.
The iD festival is mainly intended for Centrale Nantes students, although some events are open to staff and visitors (health pass required).

Programme - open to all
Monday 4 October
6 - 7 pm
Madeleine Roy exhibition
hall A
7 - 9 pm
Tuesday 5 October
2 to 3.45 pm
Inclusion policies in the workplace, with Orange, Innovafeed, L'autre Cercle, ISF
Round table - lecture theatre A
Wednesday 6 October
6 to 8.30 pm
Film-debate: Petite fille (documentary) with Nosig
lecture theatre S
Friday 8 October
Evening event
Party in a skirt, and quiz
3 exhibitions are open to all (upon presentation of the health pass) at Centrale Nantes and ensa Nantes:
Stellium : a series of portraits taken by Madeleine Roy, featuring drag artists on the Nantes scene, in order to reflect on gender: does gender exist outside of its representation? (Centrale Nantes, hall A)
Stonewall and Centr'Elles Centraliens introduce you to the idea of gender in our society and around the world, but also to its shifting definition and the battles that have been waged to advance it. (Centrale Nantes, cafeteria)
Streets named after men?: 6.7% of the streets in Nantes bear a woman's name, compared to 40.7% for men. Who are the women represented in the streets of Nantes? Is it possible to walk around the Bouffay district taking in streets with women's names only? These are the questions that the A coté collective aims to answer in this exhibition. (ENSA Nantes, plateau 1A)
Follow the festival: on Facebook
►
Full programme for students (restricted access)
Published on September 29, 2021
Updated on October 4, 2021