A first data acquisition at sea for SafeWAVE with RTSYS
Last June, as part of the SafeWAVE project, an offshore operation was conducted at SEM-REV with the project partner RTSYS, with the objective of collecting data near the WAVEGEM wave platform.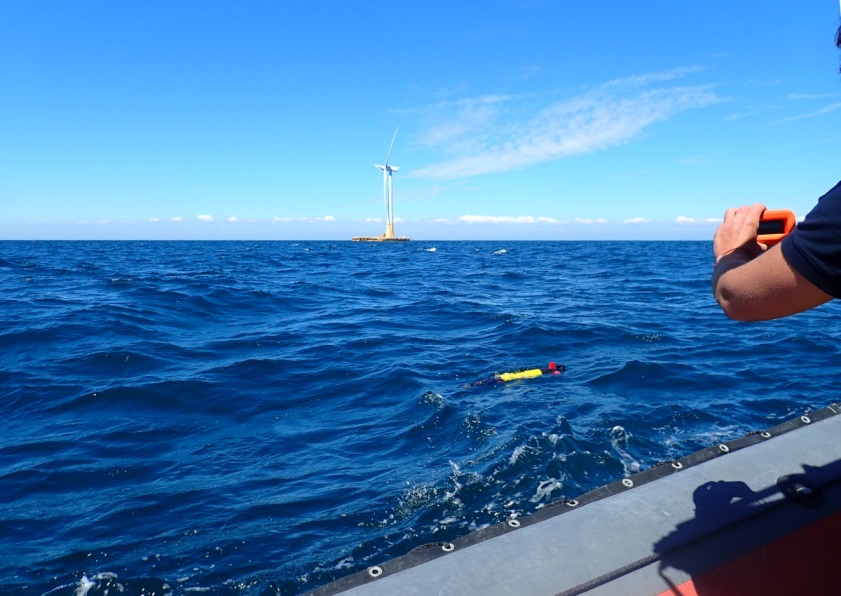 The objective of the
SafeWAVE project
is to remove some non-technological barriers that could limit the development of ocean energy. Several tests are being carried out on different MRE demonstrators deployed in European countries. These tests aim to improve our understanding of the effects of these structures in their environment and to develop solutions to remedy any negative effects.
Since 2019, the SEM-REV has been hosting GEPS Techno's prototype,
WAVEGEM
, a hybrid platform for wave energy recovery. The environmental monitoring operations of the SafeWAVE project are conducted around this platform. In order to collect data, SEM-REV has joined forces with RTSYS, a company specialising in underwater acoustics and robotics and partner in the SafeWAVE project.
During this operation, in June 2021, RTSYS deployed an AUV (Autonomous Underwater Vehicles), the COMET-300, at sea around WAVEGEM. This device, equipped with a Side Scan Sonar , was used to collect data on the underwater landscape near WAVEGEM.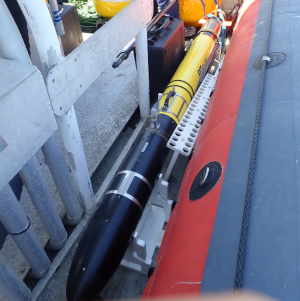 The AUV COMET-300
A second AUV, the NEMOSENS, was also deployed during the measurement campaign, equipped with an experimental acoustic sensor.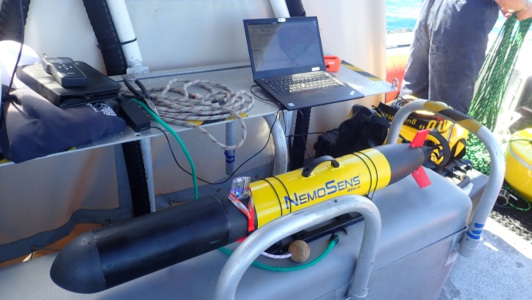 L'AUV NEMOSENS

The data will now be analysed and compared with those obtained at the other sites, to give an overview of the activities' impact on seabed integrity and underwater acoustic environment. A new operation will take place after the departure of WAVEGEM to compare the data.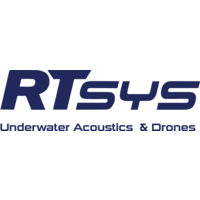 RTSYS is a specialist in underwater acoustics and Autonomous Underwater Vehicles (AUV). Our products are based on RTSYS innovation and partnership with renowned research laboratories. Thanks to its core technology "Powered by SDA", research and development have achieved an extensive growth in Defense, Science and Industry. The company develops Anti Submarine Warfare systems (ASW), portable equipments for EOD divers and complete environment in Mine Countermeasures Operations (MCM), Autonomous Underwater Vehicles (AUV) and Passive Acoustic Monitoring Systems (PAM) such as acoustic recorders, buoys, datalogger and stations.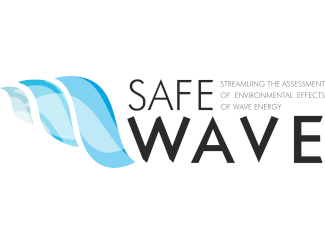 The project SafeWAVE - Streamlining the assessment of environmental effects of wave energy – aims to overcome non-technological barriers that could hinder the future development of one of the main pillars of the EU Blue Growth strategy: ocean energy.
The Consortium, led by AZTI, includes a multidisciplinary team of partners bringing together technology device developers (BIMEP, WELLO, CORPOWER OCEAN and Geps Techno), consultants and researchers (WavEC, CTN, AZTI, RTSYS, UCC and Ecole Centrale) and data managers (Hidromod), aiming to involve the wider community of ocean energy key stakeholders from across Portugal, Spain, France, and Ireland.
Published on July 19, 2021
Updated on July 19, 2021